HealthNotes
Weight-Loss Supplements: A Little Savvy Goes a Long Way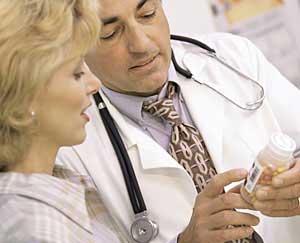 To help consumers make wise choices, the FDA recently released a Consumer Update
As more and more people struggle to lose extra weight, many of us have contemplated weight-loss dietary supplements. Consider that the global weight loss market reached a whopping $26 billion in 2009 and it becomes apparent just how many people are willing to try weight-loss products. Is this money well spent? With weight-loss supplements, a little savvy can go a long way toward making sure it is.
Sensible steps
To help consumers make wise choices and avoid falling prey to dietary supplement fraud, the U.S. Food and Drug Administration (FDA) recently released a Consumer Update to address the topic. Unlike some previous education efforts warning consumers away from all weight-loss supplements, the FDA is focused on practical measures for separating fact from fiction.
FDA warns of fraud
In recent years, supplements sold by unscrupulous retailers containing numerous powerful drugs have found their way into consumers' hands through Internet and in-store sales. Some "natural" diet products have been found to contain sibutramine (Meridia), a weight-loss medication removed from the market in 2010 because it increases risk of heart problems and strokes. Other FDA research has uncovered weight-loss supplements contaminated with seizure and blood pressure medications, and even prescription drugs that were never approved at all.
Become a confident consumer
The most important tip-off that a supplement may not be legitimate or pure are claims that are too good to be true. Products that promise quick action ("Lose 20 pounds in 10 days!"), that tout a revolutionary new scientific breakthrough, or that are marketed as having actions similar to FDA-approved weight-loss medications should raise a red flag. These products may contain unapproved or potentially harmful ingredients, including prescription medications.
More supplement savvy tips
In addition to paying attention to aggressive product claims, a few tips will help you make the most of any dietary supplement you decide to try.
Talk to a doctor or dietitian about whether a supplement is right for you before adding it to your self-care routine,
If you take prescription medications; have a heart condition, heart disease, diabetes, kidney disease, or high blood pressure; or have anxiety, depression, or other mental health issues, do not use weight-loss supplements without your doctor's guidance. Some products can significantly worsen these conditions.
Read labels. Be especially cautious with products manufactured in a foreign country or whose marketing materials are in a foreign language.
Watch out for testimonials from people who claim outrageous weight-loss success. Companies selling a product often make up their own testimonials.
Supplements that boost metabolism or suppress appetite may aid weight loss, but most are considered safe only for short-term use of four to six weeks, even in healthy folks.
If you think you've had a bad reaction to a dietary supplement, notify the FDA through their website or by phone. This is the only way to make sure harmful products are taken off the market.
(U.S. Food and Drug Administration, Beware of Fraudulent Weight-Loss 'Dietary Supplements.' Available at: www.fda.gov/ForConsumers/ConsumerUpdates/ucm246742.htm; Accessed 23 March 2011.)
Suzanne Dixon, MPH, MS, RD, an author, speaker, and internationally recognized expert in chronic disease prevention, epidemiology, and nutrition, has taught medical, nursing, public health, and alternative medicine coursework. She has delivered over 150 invited lectures to health professionals and consumers and is the creator of a nutrition website acclaimed by the New York Times and Time magazine. Suzanne received her training in epidemiology and nutrition at the University of Michigan, School of Public Health at Ann Arbor.