HealthNotes
Adult Weight Gain Hits a Plateau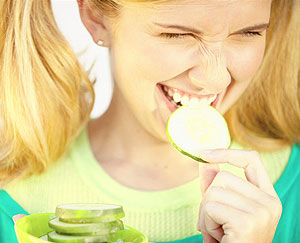 Research tells us that the most effective weight-loss programs include regular individual and group support
After more than two decades of alarming increases in rates of overweight and obesity, America's weight problem seems to have stabilized. The latest data from the National Health and Nutrition Examination Survey (NHANES) show that the rate of obesity is unchanged over the previous ten years in women and over the previous five years in men.
Upward trends are leveling off
The report, published in the Journal of the American Medical Association, used data from 5,555 adults collected from 2007 to 2008 and compared it to data collected from 1999 through 2006. Body mass index (or BMI, which equals weight in kilograms, divided by height in meters, squared) was calculated for each participant. Overweight was defined as a BMI of 25.0 to 29.9, and obesity was defined as a BMI of 30 or higher.
The following observations were drawn from the data:
The rate of obesity from 2007 to 2008 was almost 34%, and the combined rate of overweight and obesity exceeded 68%.
There was a trend of increasing obesity and overweight in men until 2003, but after then, rates were stable.
Although women were more likely than men to be obese, there was no significant change in overweight or obesity rates in women during the ten-year study period.
Non-Hispanic black women were more likely to be obese than any other demographic in this study, followed by black men and Hispanic women.
Obesity rates were significantly higher in people 40 years old and older.
We still have a long way to go
"The prevalence of obesity in the United States continues to be high, exceeding 30% in most sex and [adult] age groups," the study's authors said. "These data suggest that the increases in the prevalence of obesity previously observed…may not be continuing at a similar level over the period 1999 to 2008, particularly for women but possibly for men."
Stabilizing our collective weight is a first step in gaining control of the problem. Based on this report, public health programs can incorporate some of the following strategies:
Design programs specifically to reach minorities: The problems of overweight and obesity are disproportionately affecting blacks and Hispanics.
Start young: Helping people develop healthy eating and exercise habits in their youth might prevent the high rates of overweight and obesity seen in middle-aged adults.
Work on accessibility: Creative policies that promote the availability and accessibility of healthy foods including fruits, vegetables, nuts, and whole grains are needed.
Support people in their efforts: Research tells us that the most effective weight-loss programs include regular individual and group support.
(JAMA 2010;303:235–41)
Maureen Williams, ND, received her bachelor's degree from the University of Pennsylvania and her Doctorate of Naturopathic Medicine from Bastyr University in Seattle, WA. She has a private practice on Cortes Island in British Columbia, Canada, and has done extensive work with traditional herbal medicine in Guatemala and Honduras. Dr. Williams is a regular contributor to Healthnotes Newswire.