HealthNotes
Vitamins and Milk Keep Up Children's D Levels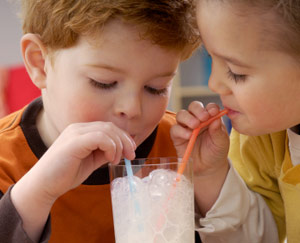 The American Academy of Pediatric recommends 400 IU of vitamin D per day for infants and children
A number of factors can interfere with
vitamin D
production and put young children at risk for deficiency: having dark skin, living far from the equator, lack of time outside, and use of sunscreen, for example. According to a study looking at children living in Canada, taking supplements with vitamin D and drinking vitamin D–fortified
milk
can play major roles in maintaining healthy vitamin D levels.
Checking kids' vitamin D status
The study, published in the Journal of the American Medical Association Pediatrics, used surveys, physical exams, and blood tests to find factors that affect vitamin D status. The researchers used data from 1,898 healthy children between one and five years old, such as answers to questions about their daily screen time, time spent outdoors, skin pigmentation, and milk and supplement intake. Their age, height, weight, and the season in which their vitamin D level was tested were recorded.
The lab test used to measure vitamin D status is called 25-hydroxyvitamin D.
A normal level is defined as 30 nanograms per milliliter (ng/ml) or higher, while
20 to 30 ng/ml is considered insufficient, and
a deficient level is lower than 20 ng/ml.
In this study, about 35% of the children had vitamin D insufficiency and 6% had deficiency.
Food and supplements make the difference
These factors appeared to affect vitamin D status:
Vitamin D supplements had the strongest effect on vitamin D status. Levels of 25-hydroxyvitamin D in children who took vitamin D were on average 3.4 ng per ml higher than in children who did not.
Skin pigmentation had the second greatest effect. Having light skin was associated with an average 2.7 ng per ml higher 25-hydroxyvitamin D level.
The difference between having a high milk intake and a low milk intake was similar to the difference between measuring vitamin D in the summer versus the winter, each accounting for a 1.6 ng per ml variation in 25-hydroxyvitamin D.
Differences in vitamin D status among children with similar skin color in the same season was almost completely explained by differences in their use of vitamin D supplements and milk intake. Screen time and time spent outside had very small effects on vitamin D status.
The importance of vitamin D for children
Vitamin D deficiency in young children has long been known to cause problems with bone development, but more recently scientists have begun to link chronic vitamin D insufficiency with other childhood health problems like allergies and asthma. In addition, poor vitamin D status during childhood might increase the risks of heart disease and certain cancers in adulthood.
Recognizing vitamin D's important role in childhood and lifelong health, the study's authors said, "Vitamin D supplementation and sensible cow's milk intake represent excellent targets for increasing 25-hydroxyvitamin D level[s] in young children." The American Academy of Pediatric recommends 400 IU of vitamin D per day for infants and children.
(JAMA Pediatr 2013; doi: 10.1001/2013.jamapediatrics.226.)
Maureen Williams, ND, completed her doctorate in naturopathic medicine at Bastyr University in Seattle and has been in private practice since 1995. With an abiding commitment to access to care, she has worked in free clinics in the US and Canada, and in rural clinics in Guatemala and Honduras where she has studied traditional herbal medicine. She currently lives and practices in Victoria, BC, and lectures and writes extensively for both professional and community audiences on topics including family nutrition, menopause, anxiety and depression, heart disease, cancer, and easing stress. Dr. Williams is a regular contributor to Healthnotes Newswire.