HealthNotes
After Menopause, Vitamin K Helps Bones Stay Strong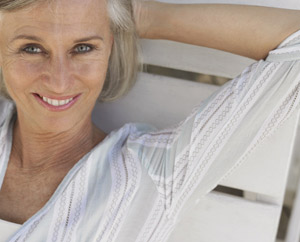 Markers of bone turnover were significantly lower in the women taking vitamin k than in the placebo group
Besides calcium, what builds bones?
Bone health depends on adequate intake of several nutrients, including calcium, vitamin D, magnesium, zinc, copper, boron, B vitamins, and vitamin K.
Dietary vitamin K comes in two forms. Phylloquinone is found primarily in leafy green vegetables like kale and collard greens. Vitamin K2 (a group of molecules known as menaquinones) is found in fermented foods like Japanese natto, some cheeses, and sauerkraut, as well as in organ meats and pastured dairy products. Menaquinone can also be converted from phylloquinone in the body.
One of the menaquinones (menaquinone-4) is used at high doses (45 mg per day) in Japan to treat women with osteoporosis. Based on this finding, researchers from the National Institute of Health and Nutrition in Tokyo investigated the effect of much smaller amounts of supplemental menaquinone-4 on measures of bone turnover and bone mineral density in 48 healthy, postmenopausal women.
The women were given 1.5 mg of menaquinone-4 or placebo every day for one year. Here's what the researchers found:
Both groups had elevated levels of markers indicating increased bone turnover (where new bone formation is outpaced by bone breakdown) at the beginning of the study.
After 6 and 12 months, markers of bone turnover were significantly lower in the women taking menaquinone-4 than in the placebo group.
Bone mineral density at the forearm (a frequent site of osteoporotic fractures) decreased significantly in the placebo group after 12 months.
Women taking menaquinone-4 didn't lose bone mineral density at the forearm.
Interestingly, the women who took part in the study were already consuming almost two times the daily recommended amount of vitamin K from their diet alone. "Given that there is evidence indicating that a high concentration of serum vitamin K might be beneficial for maintaining bone mass of postmenopausal women, the daily recommended intake for (this) population should be higher than the current average intake," said lead study author, Yoshiko Ishimi.
Go heavy for stronger bones
Weight-bearing exercise is essential for maintaining healthy bones, exposing the bones to physical forces that limit age-related bone density loss and maintains or builds new bone tissue.
Body-weight exercises—like push-ups, lunges, and squats—are all great ways to help increase bone density and prevent falls, as they work on the muscles involved with balance.
Pair up with a knowledgeable trainer to develop a program that's right for you and always check with your physician before starting any new exercise regimen.
(J Bone Miner Metab 2013;DOI:10.1007/s00774-013-0472-7)
Kimberly Beauchamp, ND, received her doctoral degree from Bastyr University, the nation's premier academic institution for science-based natural medicine. She co-founded South County Naturopaths in Wakefield, RI, where she practiced whole family care with an emphasis on nutritional counseling, herbal medicine, detoxification, and food allergy identification and treatment. Her blog, Eat Happy, helps take the drama out of healthy eating with real food recipes and nutrition news that you can use. Dr. Beauchamp is a regular contributor to Healthnotes Newswire.