HealthNotes
Vitamin D Holds Promise for Women with Cyclic Pain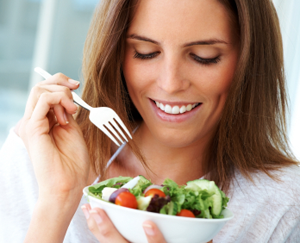 Low vitamin D levels might contribute to menstrual pain, and taking vitamin D might relieve it
Many women who suffer with
painful cramps
during their menstrual periods (dysmenorrhea) take anti-inflammatory medicines, like aspirin and ibuprofen, to treat their pain, but researchers report finding that monthly cramps were not as bad when the women took
vitamin D
before their period.
Vitamin D may play a role
A letter from the researchers, describing their study, was published in the Archives of Internal Medicine. The study included 40 women who had experienced painful menstrual cramps at least four times in the previous six months. The pain was found to be unrelated to any other health condition, and was therefore called "primary dysmenorrhea." The women were given either 300,000 IU of vitamin D, in the form of vitamin D3 (cholecalciferol), or placebo five days before the expected beginning of their next period. The treatment was then repeated for the next menstrual cycle.
These key results were reported:
Women with lower vitamin D levels at the beginning of the study had more severe menstrual pain.
Women in the vitamin D group reported less pain during the study than women in the placebo group.
Women with more severe pain at the beginning of the study experienced the greatest degree of pain relief.
None of the women in the vitamin D group used medication to treat menstrual pain during the two months of the study, while 40% of the women in the placebo group used medication for pain.
The promise of vitamin D for cramping discomfort
It is important to note that the details of the study were reported in a letter and have not yet been reviewed by other researchers. Nevertheless, the promising findings from this study suggest that low vitamin D levels might contribute to menstrual pain and that taking vitamin D might relieve it.
"To our knowledge, this is the first study investigating the effect of a single high dose of vitamin D in primary dysmenorrhea," the researchers said. "Our data supports the use of cholecalciferol in these patients," they continued, adding that it may be especially helpful to women with low vitamin D levels.
Natural menstrual pain relief
Taking vitamin D is just one thing women can do to reduce menstrual pain without using anti-inflammatory medications. Here are some others:
Boost magnesium intake. Magnesium is a mineral with muscle-relaxing effects. It has been found to ease tension in the uterine muscles and relieve cramps.
Take a bath. Many women find that a hot bath with magnesium bath salts and relaxing scents like lavender oil is just the thing to dissolve menstrual pain.
Increase omega-3 fats. Similarly to vitamin D, omega-3 fats from fish increase levels of the anti-inflammatory chemicals that keep cramps away.
Stay active. For most women, regular exercise appears to prevent pain.
Look to medicinal plants. Herbal medicines such as cramp bark (Viburnum opulus), dong quai (Angelica sinensis), and blue cohosh (Caulophyllum thalictroides) have been used traditionally to treat painful menstrual periods.
(Arch Intern Med 2012;172:366–7)
Maureen Williams, ND, completed her doctorate in naturopathic medicine at Bastyr University in Seattle and has been in private practice since 1995. With an abiding commitment to access to care, she has worked in free clinics in the US and Canada, and in rural clinics in Guatemala and Honduras where she has studied traditional herbal medicine. She currently lives and practices in Victoria, BC, and lectures and writes extensively for both professional and community audiences on topics including family nutrition, menopause, anxiety and depression, heart disease, cancer, and easing stress. Dr. Williams is a regular contributor to Healthnotes Newswire.