HealthNotes
Too Heavy? Try Getting Your Grape On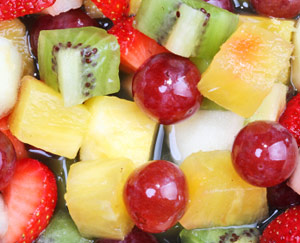 Resveratrol and other nutrients may be of greatest benefit when part of a healthy, balanced diet and an overall weight reduction plan
Obesity
increases a person's risk for serious disease including
diabetes
, and while previous studies have shown that a big cut in calories may help prevent disease and increase a person's lifespan, few people are able to make such drastic change. A study in
Cell Metabolism
suggests that taking the plant chemical resveratrol
—
found in red grapes and wine
—
may havesimilar effects as cutting calories and lead to health benefits in obese people.
Resveratrol improves measures of health
In this small study, 11 obese men were randomly assigned to take a dietary supplement of 150 mg per day of 99% pure trans-resveratrol (resVida) or placebo for 30 days. When researchers studied how the men's bodies responded, they found favorable changes in the health of men who were taking the resveratrol, compared with the placebo group, including:
Lower systolic blood pressure (the top number in a blood pressure reading)
Lower blood sugar (glucose) levels
Lower triglyceride levels
Lower blood markers linked to inflammation
Less fat in their liver and improved liver function tests, which suggest the liver is working better
While the effects were modest, the study authors concluded that resveratrol supplementation, induced "metabolic changes in obese humans, mimicking the effects of calorie restriction."
Exercising your options—and exercising caution
Resveratrol works as at the cell level to improve cell function and, ultimately, help bodies work better. An animal study showed that mice fed resveratrol showed improved sugar (glucose) levels and improved endurance and survival.
The researchers suggest that overlooked but important dietary components such as resveratrol can have similar effects as calorie reduction and help obese people stay well, but the scientific evidence is only preliminary. Resveratrol and other nutrients in the diet may be of greatest benefit when combined as part of a healthy, balanced diet and an overall weight reduction plan.
Obese people and those at risk for obesity should work with their doctor or other healthcare professional to create a comprehensive, supervised wellness plan. If you are interested in trying supplements such as resveratrol, talk with a knowledgeable doctor about all your options, and discuss the risks and benefits.
(Cell Metabolism 2011;14:612–22)
Jane Hart, MD, board-certified in internal medicine, serves in a variety of professional roles including consultant, journalist, and educator. Dr. Hart, a Clinical Instructor at Case Medical School in Cleveland, Ohio, writes extensively about health and wellness and a variety of other topics for nationally recognized organizations, websites, and print publications. Sought out for her expertise in the areas of integrative and preventive medicine, she is frequently quoted by national and local media. Dr. Hart is a professional lecturer for healthcare professionals, consumers, and youth and is a regular corporate speaker.