HealthNotes
To Live Longer, Eat Your Veggies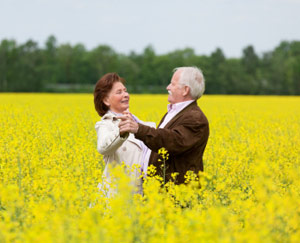 Fruits and vegetables are packed with antioxidants that combat free radicals
What better way to get extra years out of life than to eat more fresh produce? A new study in the American Journal of Clinical Nutrition reports that fruits and vegetables—especially cruciferous veggies—may lengthen your lifespan and decrease heart disease risk.
Eat your heart healthy
Several recent studies have found that fruit and vegetable consumption has little effect on overall cancer risk, but some have shown that vegetables belonging to the Brassica (cruciferous) family, like broccoli, cauliflower, kale, bok choy, turnips, collards, Brussels sprouts, cabbage, mustard, and rapini, may help prevent certain cancers. Fewer studies have investigated the connection between fruit and vegetable consumption and heart disease risk.
The new study combined the results from the Shanghai Women's Health Study and the Shanghai Men's Study, including 134,796 people whose average age was 53. The people gave information about the types and amounts of fruits and vegetables that they ate. The women were followed for about ten years, and the men for about five years
Fruit and vegetable consumption was inversely associated with the risk of mortality, meaning the more of these foods that participants ate, the less likely they were to die during the study period. The most pronounced effect was found for cruciferous vegetables. The risk of dying was 22% lower in women who ate the most cruciferous vegetables compared with those who ate the least. Most of the decreased risk was due to a drop in cardiovascular disease.
"Our findings support the recommendation to increase consumption of vegetables, particularly cruciferous vegetables, and fruit to promote cardiovascular health and overall longevity," said Xianglan Zhang, lead author of the study.
Why veggies work
Fruits and vegetables are packed with antioxidants that combat free radicals responsible for cell damage and aging fiber that helps keep you regular and normalizes blood sugar and cholesterol levels, and compounds that aid in detoxification. Fruits and veggies also help lower blood pressure and homocysteine, a risk factor for heart disease. Certain substances found in cruciferous vegetables (sulforaphane and dindolylmethane) are believed to help boost the immune system, detoxify cancer-causing chemicals, and metabolize sex hormones. Sulforaphane has been shown to reduce oxidative stress and quell inflammation in the cardiovascular system.
Besides cruciferous veggies, these foods are loaded with powerful disease-fighting antioxidants:
Berries, such as blueberries, cranberries, strawberries, raspberries, blackberries, and acai berries.
Beans, especially red and black beans.
Other fruits and veggies, such as artichoke hearts, plums, red bell peppers, sweet potatoes, onions, and apples.
Herbs and spices, such as rosemary, cloves, oregano, cinnamon, thyme, and turmeric.
(Am J Clin Nutr 2011;94:240–6)
Kimberly Beauchamp, ND, received her doctoral degree from Bastyr University, the nation's premier academic institution for science-based natural medicine. She co-founded South County Naturopaths in Wakefield, RI, where she practiced whole family care with an emphasis on nutritional counseling, herbal medicine, detoxification, and food allergy identification and treatment. Her blog, Eat Happy, helps take the drama out of healthy eating with real food recipes and nutrition news that you can use. Dr. Beauchamp is a regular contributor to Healthnotes Newswire.