HealthNotes
The Secret to Thinner Kids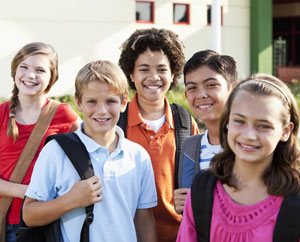 Children should get at least one hour of exercise every day
While the prevalence of
obesity
in France has leveled off in recent years, many French children are still
overweight
. A study in
Public Health Nutrition
reports on some of the traits that these kids share.
What's a few extra pounds?
Children and teens who are overweight or obese are more likely to carry that extra weight into adulthood, putting them at increased risk for future diabetes, liver disease, several types of cancer, arthritis, high blood pressure, heart disease, and stroke.
In the short-term, these kids can suffer from asthma, sleep problems, and bone and joint issues, as well as social isolation and bullying. Overweight girls may also enter puberty at a younger age and may experience menstrual problems.
Eat more, weigh less
The study looked at the eating habits, socioeconomic status, sedentary time, and physical activity of 4,048 5-to-7 year-old children and 3,619 7-to-11 year-old children to see if these factors were associated with overweight and obesity.
9.5% of 5-to-7-year-olds were overweight and 2.2% of them were obese.
15.6% of 7-to-11-year-olds were overweight and 2.9% of them were obese.
Both overweight and obesity were more prevalent among children whose parents had low or medium socioeconomic status.
Female gender, never or rarely eating breakfast, never eating school lunches, never having a morning snack, never or rarely having a light afternoon meal, and being very sedentary were all significantly associated with overweight and obesity in both age groups.
"These data reinforce previous findings but also show original associations, especially regarding the protective role of eating at the school cafeteria and of small snacks between main meals," commented the researchers. "Taken altogether, our results on dietary habits suggest that a high meal frequency is associated with a lower risk of overweight or obesity."
Keeping kids trim
Don't diet. Growing children generally shouldn't be placed on calorie-restricted diets for weight loss. Instead, let their height catch up with their weight by adopting healthy eating habits and making exercise a priority.
Get active. Children should get at least one hour of exercise every day. Aim for a combination of cardio and strengthening exercises. But that doesn't mean hitting the gym. Think: biking, swimming, jumping rope, hiking, gymnastics, sit ups, pull ups, and push ups.
Eat together. Family meals are a great way to connect with kids. They also help children from becoming overweight and make healthier food choices.
Limit screen time. Make sure to balance kids' sedentary time with lots of opportunities for active play. Watching TV takes up time that could be spent engaged in other activities and promotes excess calorie consumption.
(Public Health Nutr 2013;doi:10.1017/S136898001200359X)
Kimberly Beauchamp, ND, received her doctoral degree from Bastyr University, the nation's premier academic institution for science-based natural medicine. She co-founded South County Naturopaths in Wakefield, RI, where she practiced whole family care with an emphasis on nutritional counseling, herbal medicine, detoxification, and food allergy identification and treatment. Her blog, Eat Happy, helps take the drama out of healthy eating with real food recipes and nutrition news that you can use. Dr. Beauchamp is a regular contributor to Healthnotes Newswire.