HealthNotes
The Not-So-Surprising Key to Stopping Middle-Age Spread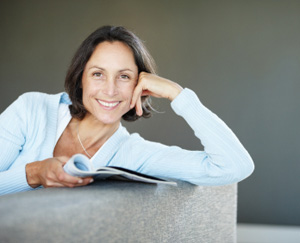 Eat more whole grains, vegetables, nuts, and yogurt
People often
gain weight
as they age, and often so gradually that it may be difficult to pinpoint the cause. Fortunately, research is now casting light on possible causes and, more importantly, solutions to age-related weight gain. According to the
New England Journal of Medicine
, the right combination of diet and lifestyle habits is—predictably—the key to warding off the "inevitable" rise in weight over the years.
Examining the "secrets" to staying thin
Keeping the pounds from adding up in the first place might be easier than trying to diet them off later. To investigate this idea, researchers from Brigham and Women's Hospital, Harvard Medical School, and the Harvard School of Public Health set up a study to shed some light on those factors that help people stay trim or contribute to weight gain over time.
Participants were part of the Nurses' Health Study I and II and the Health Professionals Follow-up Study. At the beginning of the study, 120,877 healthy, non-obese people provided their height and weight and information about their diet and lifestyle habits. This information was updated every four years for 12 to 20 years.
The participants also reported on their physical activity, television watching, alcohol use, sleep duration, and smoking history.
Eat less of this and more of that
The people gained an average of 3.4 pounds during each four-year interval—an amount that could add up to 17 pounds over 20 years. Almost every dietary and lifestyle factor investigated had some impact on weight gain over the years, the effects of which were similar among men and women.
Eating more of these foods led to the most weight gain:
Potato chips
Potatoes
Sugar-sweetened beverages
Unprocessed red meats
Processed red meats
Eating more refined grains, sweets, and desserts also led to weight gain over the years.
Eating more of these foods led to weight loss:
Vegetables
Whole grains
Nuts
Yogurt
But there is more to the story than just "eating a lot of hot dogs will make you fat," or "eating a lot of vegetables will make you thin." People who ate less of the healthier foods were also more likely to gain weight. And simply eating fewer "unhealthy" foods led to less weight gain.
"Our findings suggest that strategies to help people consume fewer calories may be most effective when particular foods or beverages are targeted for decreased (or increased) consumption," the researchers commented.
A winning combination
When it came to lifestyle factors that affected weight, here's what the researchers found:
Increasing physical activity was associated with less weight gain.
Increasing alcohol intake was linked to weight gain.
Sleeping for less than six, or more than eight, hours per night was associated with greater weight gain.
Spending more time watching television was linked to greater weight gain.
Quitting smoking resulted in some weight gain initially, but the amount lessened in the years after quitting.
So, here's the checklist that may help you maintain a healthy weight as you age:
Eat more whole grains, vegetables, nuts, and yogurt.
Eat less potatoes, red meat, sugar, and refined grains.
Exercise more.
Drink less alcohol.
Get six to eight hours of sleep each night.
Watch less television.
Of course, be sure to stay away from any food that you may have an allergy to, healthful or not. 
(N Engl J Med 2011;364:2392–404.)
Kimberly Beauchamp, ND, received her doctoral degree from Bastyr University, the nation's premier academic institution for science-based natural medicine. She co-founded South County Naturopaths in Wakefield, RI, where she practiced whole family care with an emphasis on nutritional counseling, herbal medicine, detoxification, and food allergy identification and treatment. Her blog, Eat Happy, helps take the drama out of healthy eating with real food recipes and nutrition news that you can use. Dr. Beauchamp is a regular contributor to Healthnotes Newswire.