HealthNotes
Stay Sharp with the Mediterranean Diet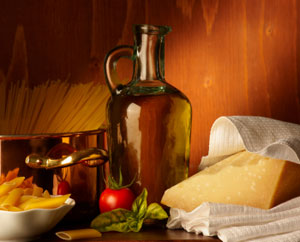 The Mediterranean diet was associated with a lower likelihood of incident cognitive impairment
A day in the Mediterranean
The Mediterranean diet isn't really strictly defined, except by the general guidelines to eat more plant-based foods, including olive oil and nuts, and very little saturated fat from meat, dairy, and eggs. A typical day's menu might look like this:
Breakfast: whole grain pancakes with fresh sliced strawberries
Lunch: mixed salad greens with grilled chicken breast, walnuts, cucumbers, and apples with olive oil and balsamic dressing
Dinner: broiled salmon with lemon and dill, brown rice, and steamed asparagus
A brainy diet
Several studies have suggested that adhering to a Mediterranean-style diet might improve longevity and decrease the risk of several chronic conditions including diabetes, cancer, obesity, and heart disease. Recent studies also suggest that the Mediterranean diet could help people at risk for vascular disease from developing dementia.
The new study followed 17,478 people (average age 64 years) as part of the Reasons for Geographic and Racial Differences in Stroke (REGARDS) study for four years to see how adhering to the Mediterranean diet affected their thinking and reasoning (cognitive) function. The researchers were particularly interested in finding out how the results differed by race, as black people are disproportionately affected by dementia and some of its risk factors, including diabetes, obesity, high blood pressure, and stroke.
Here's what the study found:
People who were more rigid about sticking to the Mediterranean diet had a significantly lower risk of developing cognitive impairment during the course of the study.
People without diabetes were significantly less likely to develop cognitive impairment when they followed the diet closely.
The results didn't differ by race.
"To our knowledge, this is the largest population-based sample of stroke-free individuals in whom higher adherence to the Mediterranean diet was associated with a lower likelihood of incident cognitive impairment independent of a substantial number of important potential confounders at baseline assessment," said lead study author, Georgios Tsivgoulis, MD.
Healthy body, healthy brain
The beauty of taking one step to improve your health is that it tends to spill over into other areas. We don't always know what causes dementia, but studies have shown that these things might help ward it off or keep it from getting worse:
Exercise. Older adults with mild cognitive impairment may improve their brain function by getting aerobic exercise several times each week.
Prevent diabetes. Having diabetes increases the chance of developing dementia. If you've been told that you're at risk for diabetes, take steps now to keep it from progressing: eliminate simple sugars from your diet, increase fruit and veggie intake, lose weight, and get at least 30 minutes of exercise every day.
Keep your heart healthy. Heart disease and dementia share a lot of the same risk factors, including high blood pressure, high cholesterol, and overweight, so anything you can do to improve your heart health counts toward lowering your dementia risk. Best bets for a healthy heart? The old standbys: regular exercise, weight loss, and a plant-based diet that's full of colorful, antioxidant-rich foods.
(Neurology 2013; 80:1684–92)
Kimberly Beauchamp, ND, received her doctoral degree from Bastyr University, the nation's premier academic institution for science-based natural medicine. She co-founded South County Naturopaths in Wakefield, RI, where she practiced whole family care with an emphasis on nutritional counseling, herbal medicine, detoxification, and food allergy identification and treatment. Her blog, Eat Happy, helps take the drama out of healthy eating with real food recipes and nutrition news that you can use. Dr. Beauchamp is a regular contributor to Healthnotes Newswire.