HealthNotes
Sourcing Essential, Antioxidant Selenium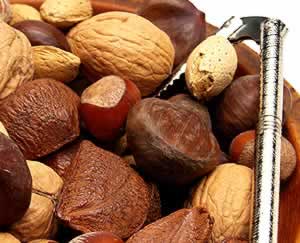 A healthy non-pregnant adult doesn't need a lot of selenium to meet the RDA, which according to the Office of Dietary Supplements is 55 mcg daily
Often overlooked—but an essential trace mineral—
selenium
affects immune system and
thyroid function
and also works as an antioxidant, helping prevent conditions associated with oxidative stress such as
heart disease
and
cancer
. Deficiencies may be rare, but it's important to ensure you get enough.
Learn about selenium-rich foods.

Brazil nuts

are one of the top sources of selenium—in fact research has suggested that eating one Brazil nut a day can correct selenium deficiency in women. Other good options include fish, poultry, meat, rice, and eggs.
Get your recommended daily allowance. A healthy, non-pregnant adult does not need a lot of selenium to meet the RDA, which according to the Office of Dietary Supplements is 55 mcg per day; the highest amount an adult should take is 400 mcg per day. The Office of Dietary Supplements points out that some Brazil nuts are unusually high in selenium (possibly with more than 500 mcg of selenium per nut), so they recommend eating Brazil nuts occasionally.
Eat a balanced diet. Eating a balanced diet that includes food sources mentioned above can help ensure you are getting enough selenium and other vitamins and minerals. Check with your doctor before taking a selenium supplement.