HealthNotes
Smaller Snacks Really Satisfy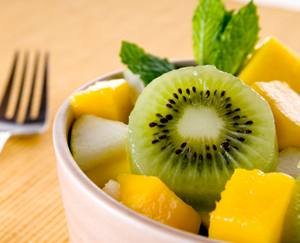 Smaller snacks can have the same satiating effect as larger ones—without the added calories
The secret to enjoying your favorite snack foods without piling on the pounds may be as simple as monitoring snack size. According to a study in Food Quality and Preference, smaller snacks can have the same satiating effect as larger ones—without the added calories.
Fill me up
Bigger serving sizes came into vogue during the 1980s, and waistlines in the Western world have continued to parallel the growth of portion sizes ever since. Even portion-controlled snack packs can lead to overeating: if one is okay, many people seem to assume that it's alright to eat more.
Researchers from Wageningen University in the Netherlands and Cornell University in New York teamed up to see if smaller snacks could decrease hunger and cravings as effectively as larger snacks. They chose three of the most commonly craved foods—potato chips, apple pie, and chocolate—gave them to 104 college students (average age 20 years) in two different serving sizes and recorded the people's feelings about how satisfying they found the snack.
The large-portion snack contained 1,370 calories from 100 grams of chocolate chips, 200 grams of apple pie, and 80 grams of potato chips. The small portion contained 195 calories from 10 grams of chocolate chips, 40 grams of apple pie, and 10 grams of potato chips.
Hunger and cravings were measured just before the snack, immediately after the snack, and again 15 minutes later.
People in the large-portion group ate 77% more calories than people in the small-portion group.
Cravings and hunger didn't differ between the groups at any time point; both portion sizes satisfied hunger and cravings to the same degree.
"This suggests that compared to providing larger portions, smaller portions of commonly craved foods are capable of providing similar fulfillment of desire," concluded the authors.
Staying trim in a supersized culture
Although the new study was small and only included a single portion size trial, it is in line with previously published studies that show the effect of portion size on calories consumed. It also adds the hopeful new finding that smaller snacks might satisfy cravings and hunger as well as larger ones. Future studies are needed to confirm these findings.

Following these simple tips may help keep overeating at bay:
Go tiny. Use smaller plates and utensils to keep portions to a reasonable size.
Don't be a member of the clean-plate club. Tell yourself that it's okay not to finish every last bite of food on the dish.
Be mindful. Mindful eating practices, including paying attention to the cues that lead to overeating and avoiding distractions during mealtimes, can help people eat less and lose weight. This may include avoiding eating while multitasking or watching TV.
Chew on this. Make every bite count by chewing each mouthful about 40 times. Chewing suppresses a hormone called ghrelin that makes you feel hungry. The more you chew, the less ghrelin is released, and the fuller you feel. Longer chewing times can also cut calorie intake significantly.
(Food Qual Prefer 2013;27:96–100)
Kimberly Beauchamp, ND, received her doctoral degree from Bastyr University, the nation's premier academic institution for science-based natural medicine. She co-founded South County Naturopaths in Wakefield, RI, where she practiced whole family care with an emphasis on nutritional counseling, herbal medicine, detoxification, and food allergy identification and treatment. Her blog, Eat Happy, helps take the drama out of healthy eating with real food recipes and nutrition news that you can use. Dr. Beauchamp is a regular contributor to Healthnotes Newswire.