HealthNotes
Smaller Entrées Help Kids Eat More Fruits and Veggies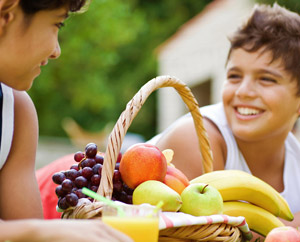 It's also much easier to get kids to eat their veggies if it's a prerequisite to eating rest of the meal
You may never have to bribe your children to eat their broccoli again. A study in the American Journal of Clinical Nutrition suggests that putting less of the "yummy" stuff on their plates could get children to eat more of the things that you want them to—fruits and vegetables.
Half of the plate?
According to the USDA's new MyPlate guidelines, half of the plate should be filled with fruits and vegetables, and the other half should be split between lean protein and whole grains.
Even though these recommendations are much easier to understand than the food pyramids of the past, most children still aren't getting enough fruits and vegetables in their diets. One study estimated that 50% of children between two and five years old ate enough fruit, and only 22% met the recommendation for daily vegetable consumption.
Leave room for veggies
Researchers from Pennsylvania State University and Temple University in Philadelphia, PA, designed a study to investigate the effects of entrée portion size on the amount of different foods eaten at mealtime.
Seventeen children between three and six years old took part in the study. On separate days, the children were given lunches with six different entrée portion sizes of macaroni and cheese. They were also given green beans with butter, unsweetened applesauce, and a whole wheat roll. The children's height and weight were measured and the amount of each food eaten was recorded at each meal.
As entrée portions increased, the amount of entrée eaten went up. At the same time, the amount of other foods eaten went down, including fruits and vegetables. "Children filled up and became satiated by eating the main dish and chose to forego the less-energy-dense, less-well-liked foods such as fruits and vegetables," said lead study author, Jennifer Savage, of the Center for Childhood Obesity Research at Pennsylvania State University.
When the children were given the smallest entrée portion sizes, they ate 90% more of the other foods (green beans, applesauce, and roll) and 63% less of the macaroni and cheese than they did when they were given the largest entrée size.
Overweight children tended to eat more of the larger meals, potentially adding to their weight problem.
Dodging the veggie drama
In addition to smaller entrée sizes, try these tips to squeeze more produce into your children:
Mix it up. Jennifer Lush, a primary care physician in Seattle who sees a lot of children in her practice, suggests pureeing kale and mixing it into smoothies, sauces, cakes, and brownies. Dr. Lush adds that it's also much easier to get kids to eat their veggies if it's a prerequisite to eating rest of the meal.
Keep it simple. Offering children too many choices at mealtimes might steer them towards the less healthy ones, says Amber, mother of Eve, 12, Abel, 10, and 19-month old twins, Ezra and Moses. Amber suggests offering healthy foods matter-of-factly (detaching yourself from the outcome), and setting an example by always eating lots of fruits and veggies yourself.
Don't make it optional. Renee, mother of Ian, 6, says that she doesn't give a choice about eating fruits and vegetables, but she does institute the "polite bite" rule in her house—if you really don't like a food after trying it, you don't have to finish it. She also allows one treat in the afternoon, doing away with after-dinner dessert wars. Renee lets Ian in on the food selection, too, which led to the discovery of his new favorite vegetable, Brussels sprouts.
Stock up on good health. Ethan, father of Aelin, 15, and Riley, 13, says to try to keep unhealthy foods out of the house. "Teenagers are always hungry, and will eat whatever is available, even if it's a vegetable."
Look beyond taste. Greg, father of Colwynne, 9, and Snowdon 6, points out that the developmental range of kids' relationship with food—sensory and motor—is often overlooked. In these cases, crunchy can be great or awful. Would a different texture or presentation appeal to them, like wet, dry, pureed, cubes, strips, laces, salted, soaked, or chilled? Some family favorites are carrots tempura, Mexican rice with beans, squash pies, pumpkin pancakes, roasted eggplant dip, and fresh guacamole; though a basic colorful crudités is the overall winner, hands down.  
(Am J Clin Nutr 2012;95:335–41)
Kimberly Beauchamp, ND, received her doctoral degree from Bastyr University, the nation's premier academic institution for science-based natural medicine. She co-founded South County Naturopaths in Wakefield, RI, where she practiced whole family care with an emphasis on nutritional counseling, herbal medicine, detoxification, and food allergy identification and treatment. Her blog, Eat Happy, helps take the drama out of healthy eating with real food recipes and nutrition news that you can use. Dr. Beauchamp is a regular contributor to Healthnotes Newswire.