HealthNotes
Protect Your Skin with Green Tea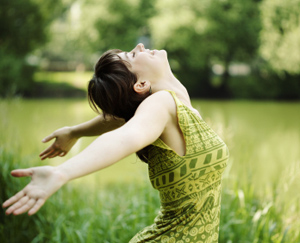 Green tea's protective effects are generally attributed to healthful nutrients called polyphenols
A painful
sunburn
can ruin the day, so follow good sun safety practices as you enjoy outdoor summer activities. Apply
sunscreen
regularly, per label instructions, and pack extra to reapply for when you'll be out longer than an hour. And consider adding
green tea
to your routine, as the healthy drink appears to improve skin health, and may even lessen risk of sunburn on fair to moderate skin pigmentation.
Green tea's protective effects are generally attributed to healthful nutrients called polyphenols. Use our tips to get more from your summer sipping plan:
Get loose. Try loose green for the best taste. One cup of green tea brewed from loose leaves provides around 200 mg of polyphenols.
Go icy. Try a thermos of iced green tea for your next outing to the beach or a picnic. Brew tea as you would if planning to drink hot, then refrigerate for several hours in a glass container to chill before adding ice.
Add citrus. Sip green tea with a squeeze of lemon for best absorption of healthy nutrients. The vitamin C can prevent polyphenols from breaking down.
Avoid dairy. Adding milk to green tea may decrease the benefit by blocking polyphenol absorption.
Drink liberally. Around seven cups of green tea daily will reach the level of polyphenols—around 1,400 mg per day—that preliminary research has found may have benefit. Replace your morning coffee with green tea, or try decaf green tea if you need to limit your caffeine intake.
Stay bright. Green tea that steeps too long turns brown and can be bitter. Keep an eye on your concoction and remove the tea bag or ball, or strain out the leaves for tasty bright green goodness.
(J Nutr 2011;141:1202–8)
Suzanne Dixon, MPH, MS, RD, an author, speaker, and internationally recognized expert in chronic disease prevention, epidemiology, and nutrition, has taught medical, nursing, public health, and alternative medicine coursework. She has delivered over 150 invited lectures to health professionals and consumers and is the creator of a nutrition website acclaimed by the New York Times and Time magazine. Suzanne received her training in epidemiology and nutrition at the University of Michigan, School of Public Health at Ann Arbor.