HealthNotes
Seniors: Keep Moving with Vitamin D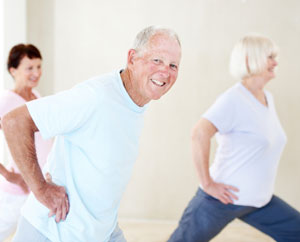 Likelihood of mobility limitation was 30% higher in people deficient in vitamin D
A study in the
Journal of Gerontology
suggests that waning
vitamin D
levels could make it harder for older people to get around.
An active job for vitamin D
Besides its role in bone health, vitamin D is also linked to muscular health and function. Older adults with lower vitamin D levels may not be as strong, which could lead to a decrease in mobility over time.
A previous investigation by the authors of the current study suggested that low vitamin D levels could predict future mobility issues in very old people. In this study, they looked at how vitamin D levels affect mobility in younger, otherwise healthy seniors.
Almost 2,100 people aged 70 to 79 years who were enrolled in the Health ABC Study were included in the analysis. At the beginning of the study, all of the participants were able to walk a quarter of a mile and climb tens steps without difficulty. Their vitamin D levels were measured at that time. Over the next six years, the people reported on their mobility levels.
Move better with D
Lower vitamin D levels were associated with difficulties in mobility over the study period:
mobility limitation: two consecutive incidents of having any difficulty walking a quarter mile or climbing ten steps without having to rest, and
mobility disability: two consecutive incidents of having severe difficulty or complete inability to perform these tasks.
Likelihood of mobility limitation was 30% higher in people mildly deficient in vitamin D (between 50 and 75 nmol/L), while those with more severe deficiency (levels below 50 nmol/L) were two times as likely as those with levels above 75 nmol/L to have a mobility disability.
"Definitive trials of vitamin D supplementation are needed to determine whether increasing vitamin D levels in older adults can improve or prevent further declines in physical function and mobility in particular," said the researchers.
Are you at risk?
Seniors are at higher risk for vitamin D deficiency than younger people. "About one-third of older adults have low vitamin D levels," said lead study author, Denise Houston, of the Wake Forest School of Medicine. "It's difficult to get enough vitamin D through diet alone, and older adults, who may not spend much time outdoors, may need to take a vitamin D supplement."
Talk with your doctor about having your vitamin D levels tested. Together you can come up with a plan to boost your levels, if needed.
(J Gerontol 2012; doi:10.1093/gerona/gls136)
Kimberly Beauchamp, ND, received her doctoral degree from Bastyr University, the nation's premier academic institution for science-based natural medicine. She co-founded South County Naturopaths in Wakefield, RI, where she practiced whole family care with an emphasis on nutritional counseling, herbal medicine, detoxification, and food allergy identification and treatment. Her blog, Eat Happy, helps take the drama out of healthy eating with real food recipes and nutrition news that you can use. Dr. Beauchamp is a regular contributor to Healthnotes Newswire.