HealthNotes
School-Year Strategies to Stay Gluten-Free

Teach Your Student to Give Gluten the Boot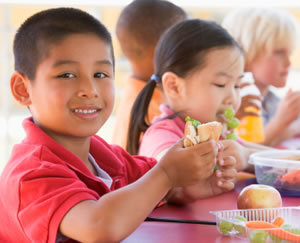 Naturally gluten-free fresh fruits and vegetables are always a safe choice
When a child is a gluten-free eater, back-to-school season is a great time to go over the importance of eating only gluten-free foods to help them feel good. Prepare an easy eating plan flexible enough to stick with any busy school-year schedule. Teach your youngster to ask adults to check labels before eating a questionable food. Save the brain power for school by making a no-brainer list of go-to foods to keep on hand at school and at home.
Gluten-free versions of most foods are available these days, but with certain ingredients it's never a good idea to assume. Remind kids that when an opportunity to eat presents itself, they need to think through their choices:
Go for it
Naturally gluten-free fresh fruits and vegetables are always a safe choice
Corn chips and corn tortillas
Premade gluten-free products
Consider providing small gluten-free versions of common treats, such as cookies, to help your child not feel deprived. 
Check it
Gluten can hide in packaged foods and foods made with seasonings such as salad dressings, soups, broths, and flavored teas and coffees
Gluten may also be found in foods with natural and artificial colorings and flavorings, clarifying agents, emulsifiers, starch and modified food starch, hydrolyzed plant and vegetable proteins, maltose and dextrose, and stabilizers
Remember: gluten-free products will generally say so on the label.
Skip It
Avoid wheat (including breads and pastas), barley, and rye, and its disguises: bulgur, durum, faro, spelt, KAMUT wheat, gram flour, semolina, seitan, triticale, einkorn, and farina
Here's the main lesson: when in doubt, don't eat it!
Consult with your child and also with teachers and other caretakers to see if your child finds it challenging to resist certain foods or finds certain meal or snack times more difficult and adjust your strategy as needed.
In addition to celiac disease, a well-known intestinal gluten sensitivity, mounting evidence links gluten sensitivity with other health challenges, such as inflammation, causing some parents to experiment with changes to diet. Gluten sensitivities should be diagnosed by a pediatrician before common healthful foods are removed from a child's diet. With a celiac disease diagnosis, all a child's caretakers should be educated on the importance of avoiding gluten.
Pop Quiz! Are These Gluten-Free Foods: True or False?
Fresh fruit or vegetables
Chips and gluten-free salsa

True – as long as the salsa is confirmed to be gluten-free.

Tomato soup

Not enough information. Tomato soup may or may not be gluten-free.

Macaroni (made from semolina and egg) and cheese