HealthNotes
Some Schizophrenia Symptom Relief Linked to Vitamin-Gene Combo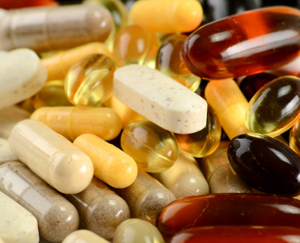 Even small effects of folate and vitamin B12 supplementation could be clinically meaningful
People with mental illness often struggle with unwanted symptoms despite taking medications to ease these symptoms. A study in
JAMA Psychiatry
found that supplementing with
folic acid
and
vitamin B12
may bring an added measure of relief in certain people with a specific gene who have
schizophrenia
, a chronic mental illness that causes hallucinations, delusions, and withdrawal.
Relief for some
In this study, 140 people taking antipsychotic medication for schizophrenia were randomly assigned to take 2 mg of folic acid and 400 mcg of vitamin B12, or placebo, daily for 16 weeks. Participants' symptoms were monitored and they were tested for genetic variations.
Results showed that, compared with the placebo group, people in the supplement group who had a specific genetic variant (one that helps move folate into the body) experienced a significant symptom reduction in certain symptoms such as a lack of emotions, lack of interest and/or pleasure in activities, and an inability to speak.
The study authors' conclude that "supplementation of antipsychotic medications with folate and vitamin B12 improves negative symptoms of schizophrenia, but only when accounting for common functional genetic variants in enzymes that regulate folate absorption and metabolism." Further research is needed to confirm these findings.
How genes and symptoms may be linked
Genes guide the way. Genes are the "maps" in our body, which determine whether or not you have brown or blue eyes or blonde or brown hair. But did you know that genes also affect how vitamins are absorbed or metabolized in your body and how you respond to medical treatments?
Certain symptoms of schizophrenia have been linked to folate deficiency, but supplementing with folic acid doesn't seem to help everyone. As this study shows us, this difference in response between individuals may be due to genetic variations that determine how a person responds to supplements.
Treatments should be individualized. Understanding the link between how genes affect a person's response to treatment is a fascinating area of emerging research, and we will learn much more about this in the future. In the meantime, the authors stress the importance of individualizing treatment for people with schizophrenia and state that, "Even small effects of folate and vitamin B12 supplementation could be clinically meaningful . . . given the disability associated with negative symptoms, the lack of available treatments, and the minimal apparent adverse effects of vitamin supplementation." If you or a loved one suffers from mental illness, talk with a doctor about conventional and complementary therapies that may help optimize treatments, and talk about the risks and benefits of supplements.
(JAMA Psych doi:10.1001/jamapsychiatry.2013.900)
Jane Hart, MD, board-certified in internal medicine, serves in a variety of professional roles including consultant, journalist, and educator. Dr. Hart, a Clinical Instructor at Case Medical School in Cleveland, Ohio, writes extensively about health and wellness and a variety of other topics for nationally recognized organizations, websites, and print publications. Sought out for her expertise in the areas of integrative and preventive medicine, she is frequently quoted by national and local media. Dr. Hart is a professional lecturer for healthcare professionals, consumers, and youth and is a regular corporate speaker.