HealthNotes
Omega-3s Offer PMS Relief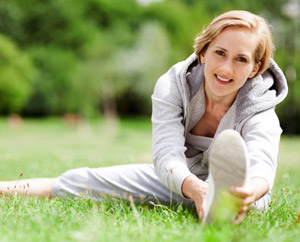 Premenstrual depression, anxiety, difficulty concentrating, and bloating severity were significantly lower in the omega-3 group
If you're among the 40% of premenopausal women who live with
PMS
every month, an
omega-3
supplement might give you some relief. According to a study in
Complementary Therapies in Medicine
, a combination of DHA and EPA may improve symptoms like depression, anxiety, bloating, and breast tenderness in women with this difficult-to-treat condition.
Crabby, anxious, bloated?
Premenstrual syndrome, or PMS as it's commonly referred to, encompasses a range of symptoms that begin some time during the second half of the menstrual cycle (usually one to two weeks before a woman's period) and lasts until the period begins. The symptoms can vary from woman-to-woman and by the month. They may be physical in nature, like swelling of the hands and feet, abdominal bloating, breast tenderness, weight gain, and headaches, or mood-related, like anxiety, depression, nervousness, and inability to concentrate. Changing hormone levels throughout the menstrual cycle may be responsible for causing PMS.
Omega-3s to the rescue
The omega-3 fatty acids, DHA and EPA, are prized for their anti-inflammatory and mood-boosting effects, so researchers from Iran sought to find out if an omega-3 supplement might help alleviate PMS symptoms in 124 women between the ages of 20 and 45 years with the condition.
Half of the women took an omega-3 fatty acid supplement that provided daily 240 mg of DHA and 360 mg of EPA for 30 days. For another 60 days, those women took the supplement every day for 8 days before their periods and for the first 2 days of their menses. The other women took a placebo.
After 45 days, premenstrual depression, anxiety, difficulty concentrating, and bloating severity were significantly lower in the omega-3 group than in the placebo group. After 90 days, the severity of premenstrual nervousness was also much less, and the duration of all of these premenstrual symptoms—as well as bloating and breast tenderness—was significantly shorter than in the placebo group.
"It appears that longer use is more effective for these specific symptoms," commented the researchers.
Better bets for PMS
Many of the drugs that are used to control PMS symptoms can also cause side effects. Selective serotonin reuptake inhibitors (SSRIs) may help ease many of the emotional and physical symptoms associated with PMS, but they can also cause weight gain and sexual dysfunction. A type of birth control pill called YAZ can be helpful for women with severe PMS, but it carries a significant risk of blood clots that may lodge in the lungs or brain.
To treat PMS naturally, try following these tips:
Chill out. Stress doesn't make anything better, including PMS. Take a gentle walk, sip some chamomile tea, or soak in a warm tub infused with lavender essential oil.
Take your minerals. Studies have shown that calcium and magnesium may help relieve PMS symptoms, including swelling, breast tenderness, depression, mood swings, and pain.
Get moving. Exercise might be the last thing on your mind when you're feeling moody and swollen, but it could be the ticket to relieving your PMS symptoms. Exercise releases pain-killing endorphins, boosts your mood, and gives you extra energy to get through the day. Basically, it's the anti-PMS.
(Complement Ther Med 2013:21:141–6)
Kimberly Beauchamp, ND, received her doctoral degree from Bastyr University, the nation's premier academic institution for science-based natural medicine. She co-founded South County Naturopaths in Wakefield, RI, where she practiced whole family care with an emphasis on nutritional counseling, herbal medicine, detoxification, and food allergy identification and treatment. Her blog, Eat Happy, helps take the drama out of healthy eating with real food recipes and nutrition news that you can use. Dr. Beauchamp is a regular contributor to Healthnotes Newswire.