HealthNotes
Rooibos: The Heart-Healthy Herbal Tea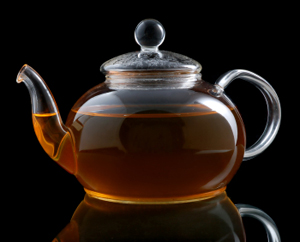 Drinking 6 cups of rooibos tea daily may improve markers associated with heart disease
Natural ingredients from exotic locales always hold the sparkling promise of miracle elixirs—so it's nice when research backs it up. A recent example of this is African rooibos tea, which has been found to improve various risk factors for heart disease.
Rating rooibos
Tea made from the leaves of the rooibos plant has been consumed in South Africa since the 1700's. Cell studies suggest the tea, also called redbush, contains antioxidants and other nutrients, but health benefits attributed to its consumption are largely unproven so this study is of particular interest.
Researchers invited 83 men and women with at least two or more coronary heart disease risk factors, but who were otherwise healthy, to participate in the rooibos study. The risk factors included high cholesterol, smoking, high blood pressure (hypertension) or pre-hypertension, and being overweight. Participants were not taking any medication to manage these conditions.
Participants consumed 6 cups of rooibos herbal tea daily for six weeks, followed by a four-week control period during which they drank 6 cups of water instead. Blood tests to assess antioxidant activity, cholesterol and triglyceride (fat in the blood) levels, and liver and kidney function were measured at the end of the tea and water study periods.
Compared with drinking water, changes in blood measurements after drinking rooibos tea included:
Increased blood levels of polyphenols, dietary nutrients associated with lower heart disease risk
Decreased cholesterol oxidation (high levels of oxidized cholesterol are believed to increase risk of heart disease)
Increased function of the body's natural antioxidant systems
Decreased levels of LDL ("bad") cholesterol and triglycerides
Increased levels of HDL ("good") cholesterol
Mastering better health to a "tea"
This study suggests that drinking six cups of rooibos tea daily may improve blood markers associated with heart disease, which many scientists view as an indication of lower risk. But should you add rooibos tea to your heart-healthy, self-care plan?
Keep in mind that drinking almost any type of tea may improve health. Many teas, from black to green to chamomile and other herbal varieties, appear to offer a variety of health benefits. So, if you like the taste of rooibos, drink up. But if rooibos doesn't appeal to you, try green, black, or another herbal tea instead.
Also remember that one added benefit of tea drinking is that the tea can replace other, less healthy beverages. If you ditch your soda in favor of a cup of tea, you'll be doing your health a favor, regardless of the type of tea consumed.
Finally, if heart disease is a concern, you will likely do more for your health by engaging in tried-and-true heart-disease fighters. This includes maintaining a healthy body weight, getting regular exercise, and following a heart-healthy eating plan that includes plenty of vegetables, fruit, whole grains, and legumes.
(J Ethnopharmacol 2011; 133:46-52)
Suzanne Dixon, MPH, MS, RD, an author, speaker, and internationally recognized expert in chronic disease prevention, epidemiology, and nutrition, has taught medical, nursing, public health, and alternative medicine coursework. She has delivered over 150 invited lectures to health professionals and consumers and is the creator of a nutrition website acclaimed by the New York Times and Time magazine. Suzanne received her training in epidemiology and nutrition at the University of Michigan, School of Public Health at Ann Arbor.