HealthNotes
Pregnant Women Need Omega-3s for Baby's Health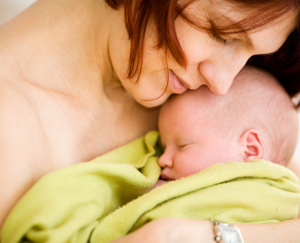 A child's immune system starts to form while she or he is still in the womb
Research suggests that the vitamins and nutrients a woman receives during her pregnancy have a lasting effect on her baby's health, even after birth. A study in Pediatrics supports this view, finding that women who took omega-3 fatty acid supplements during pregnancy lowered their baby's risk of colds during infancy.
Prenatal omega-3s protect babies
In this study, 1,094 pregnant women in Mexico were randomly assigned to supplement with 400 mg of DHA (docosahexaenoic acid)—an omega-3 fatty acid—or placebo from the eighteenth to twenty-second week of their pregnancy until delivery. Caregivers reported the incidence of illness symptoms in the infants born to these women at one, three, and six months old.
Results showed that at one month, 38% of the infants of women who had received the DHA supplement experienced cold symptoms compared with 45% of the infants of the women in the placebo group, a statistically significant finding. There was also a trend toward a shorter duration of cold symptoms in the DHA infants up to six months old compared with the placebo group.
Beth Imhoff-Kunsch, MPH, PhD, and her colleagues from the Rollins School of Public Health, Emory University, Atlanta, Georgia, comment that prior studies, where adults and children received omega-3 fatty acids, have been inconsistent in showing effects on immune function and inflammation, but they state, "Our findings contribute to the accumulating evidence base for a relationship of prenatal . . . nutrition to the development of fetal and neonatal immune function." They add that further research is needed to evaluate the role of prenatal omega-3 fatty acids on infant immune function.
Learn more about Omega-3s
Protecting your child. A child's immune system starts to form while she or he is still in the womb. A mix of many types of nutrients including DHA, are crucial for the normal development of a fetus. But research suggests that many pregnant women are not getting enough of this nutrient which may later affect their child's ability to fight off infection.
Talk with a doctor. Omega-3 fatty acids can be obtained through supplements or the diet. Omega-3s are found in fatty fish such as salmon and yet, pregnant women are cautioned to avoid eating too much fish due to contaminants such as mercury. These contaminants can have an adverse effect on a baby's health. But the message from experts is not to avoid fish all together. If you are pregnant or may become pregnant, talk with a doctor about their recommendations on how much fish and what types of fish are the safest to eat during pregnancy. Also talk with your doctor about whether or not you should be taking any supplements above and beyond your normal prenatal vitamin regimen.
(Pediatrics; published online August 1, 2011; DOI: 10.1542/peds.2010-1386)
Jane Hart, MD, board-certified in internal medicine, serves in a variety of professional roles including consultant, journalist, and educator. Dr. Hart, a Clinical Instructor at Case Medical School in Cleveland, Ohio, writes extensively about health and wellness and a variety of other topics for nationally recognized organizations, websites, and print publications. Sought out for her expertise in the areas of integrative and preventive medicine, she is frequently quoted by national and local media. Dr. Hart is a professional lecturer for healthcare professionals, consumers, and youth and is a regular corporate speaker.