HealthNotes
Potassium Supplement Helps Seniors Build Bone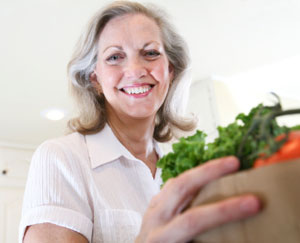 Treatment with potassium citrate for 24 months resulted in a significant increase in bone mineral density
The typical Western diet is high in foods that form acids in the body—animal protein, sugar, coffee, and alcohol—and low in foods that alkalinize, namely, vegetables. The acidity created by this diet is well managed by healthy kidneys, but our capacity to keep acidity in check diminishes with age. Since calcium is used to buffer acidity in the body, one of the consequences of long-term low-level acidity is
bone loss
. A study has now found that taking an alkalinizing
potassium
supplement for two years led to increased bone mineral density in people over 65.
Neutralizing acid with potassium
The study, published in the Journal of Clinical Endocrinology and Metabolism, included 201 healthy nonvegetarian men and women between 65 and 80 years old. Everyone in the study was given calcium (500 mg per day) and vitamin D (400 IU per day) supplements; in addition, they received either a daily potassium citrate supplement (providing 2,346 mg of potassium) or placebo.
Potassium users build bone
Blood, urine, and bone mineral density tests were done at the beginning of the study and every six months for two years. These tests showed the following:
Urine calcium and urine acidity diminished in women taking the potassium supplement.
Blood levels of a marker of bone formation increased in women using potassium.
Bone mineral density increased more in the potassium group, with differences of 1.7% in the lumbar (lower) spine, 1.0% in the hip, and 1.3% in the total body. The improvement was seen in the inner bone mineral matrix, rather than the outer bone cortex, which is believed to indicate more protection from future fractures.
Overall bone fracture risk decreased in women in the potassium group, but increased in women in the placebo group.
The study's authors summarized their findings, saying, "Among a group of healthy elderly persons without osteoporosis, treatment with potassium citrate for 24 months resulted in a significant increase in [bone mineral density] at several sites tested, while also improving bone microarchitecture."
Getting more potassium
The amount of potassium in supplements is regulated in the US and many other parts of the world because they can aggravate peptic ulcers and can interact dangerously with certain medications, so getting the amount of potassium citrate used in this study may require a prescription. It is also important to note that only potassium citrate has been shown to benefit bones.
Although eating potassium-rich foods appears to be less effective than taking potassium citrate, we do know that people who eat fruits and vegetables produce less acidic byproducts that might strip calcium from bones, and some researchers have found that a low-potassium diet is linked to bone loss. Here are some ways to get more potassium, as well as other nutrients to keep bones strong:
Bring on the beans. Beans are a good source of protein, and can replace acid-forming animal protein in a meal. A cup of cooked beans provides approximately 1,000 mg of potassium.
Put on the potatoes. An average potato, baked with the skin on, provides about 1,000 mg of potassium. It's also a pretty good source of calcium.
Get your greens. 1/2 cup of cooked spinach or chard provides more than 400 mg of potassium.
Enjoy variety. Other foods rich in potassium include sweet potato, winter squash, avocado, tomatoes, mushrooms, apricots, melon, raisins, and, of course, bananas.
(J Clin Endocrinol Metab 2012;98:doi:10.1210/jc.2012-3099)
Maureen Williams, ND, completed her doctorate in naturopathic medicine at Bastyr University in Seattle and has been in private practice since 1995. With an abiding commitment to access to care, she has worked in free clinics in the US and Canada, and in rural clinics in Guatemala and Honduras where she has studied traditional herbal medicine. She currently lives and practices in Victoria, BC, and lectures and writes extensively for both professional and community audiences on topics including family nutrition, menopause, anxiety and depression, heart disease, cancer, and easing stress. Dr. Williams is a regular contributor to Healthnotes Newswire.