HealthNotes
Plant Extracts May Help Keep Hunger at Bay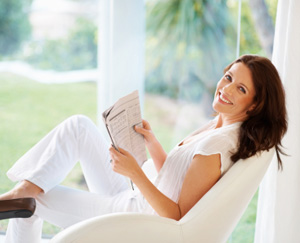 Kidney bean and artichoke extract combination might help people feel full, eat less, lose weight, and maintain healthy blood sugar levels
Anyone who's tried to lose weight knows that it's easier if you're not hungry, and scientists tell us that blood sugar stability is one of the keys to keeping hunger at bay. A study published in Phytotherapy Research found that taking a before-meal supplement made from extracts of kidney bean and artichoke reduced appetite and improved blood sugar control in overweight people.
Bean and artichoke extracts reduce hunger
In the study, 40 overweight or obese men and women were divided into two groups: one group received a combination supplement providing 100 mg of an extract from kidney bean (Phaseolus vulgaris) and 200 mg of an extract from artichoke (Cynara scolymus), while the other group received placebo. The supplement or placebo was taken three times per day before meals for eight weeks. All of the participants received dietary counseling and were encouraged to eat a healthy low-calorie diet.
Researchers noted the following results:
While the placebo group continued to be hungry throughout the trial, people taking the plant extracts reported feeling increasingly sated (full and satisfied) as the trial went on.
Blood sugar levels decreased and measures of insulin sensitivity improved in the plant extract group but not in the placebo group.
Cholesterol levels, body weight, and body-mass index (a calculated number used to identify overweight and obesity) all decreased more in the plant extract group than the placebo group, but these differences did not reach statistical significance.
Less appetite means less eating
In addition to these differences, the study's authors found that, according to scores from eating questionnaires filled out by all participants throughout the study, the plant extract group was more able to stay on the low-calorie diet than the placebo group. "As a matter of fact, the supplemented group showed a significant increase in the 'dietary restriction' score," they said. "Refraining from eating too much means a better control over food intake and consequently may be associated with success in weight loss and maintenance."
Eat to satisfy your appetite
The results of this study suggest that a kidney bean and artichoke extract combination might help people feel full, eat less, lose weight, and maintain healthy blood sugar levels. The plant chemicals in kidney beans and artichokes that are thought to be responsible for these effects are common to many other plant foods. Here are some things to keep in mind if you are trying to eat less and lose weight:
Get lots of fiber. Fiber is filling, and slows the breakdown of starches into sugar. Legumes, whole grains, fruits, and vegetables are all high-fiber foods.
Include healthy fats. The fats from plant foods such as nuts, seeds, and avocados are heart-healthy and also slow carbohydrate breakdown. What's more, they stimulate the release of chemicals in the body that signal fullness.
Take lean protein. Having small portions of fish, soy foods, and lean cuts of beef, poultry, and pork can help curb your appetite, especially for sweets.
Eat (don't drink) your calories. It turns out that high-calorie drinks like soft drinks and juices are less filling than solid food, leaving us hungry for more calories sooner.
(Phytother Res 2011;25:1275–82)
Maureen Williams, ND, completed her doctorate in naturopathic medicine at Bastyr University in Seattle and has been in private practice since 1995. With an abiding commitment to access to care, she has worked in free clinics in the US and Canada, and in rural clinics in Guatemala and Honduras where she has studied traditional herbal medicine. She currently lives and practices in Victoria, BC, and lectures and writes extensively for both professional and community audiences on topics including family nutrition, menopause, anxiety and depression, heart disease, cancer, and easing stress. Dr. Williams is a regular contributor to Healthnotes Newswire.