HealthNotes
Organic Broccoli Packs a Nutritional Punch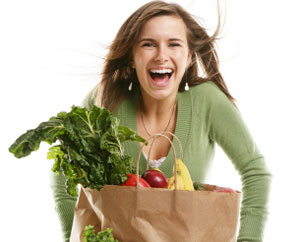 Organic broccoli had significantly higher organic acid content, including vitamin C, than conventionally grown broccoli
It's no secret that
broccoli
is good for you. But the longer it takes this superfood to go from farm to table, the more nutrition it loses. A study in the
Journal of the Science of Food and Agriculture
found that organically grown broccoli may be more nutritious than conventional varieties, and that using a heat treatment after harvest can help keep broccoli fresher, longer.
Tiny trees bring good health
Chock full of vitamin C, vitamin K, folate, and antioxidant compounds called phenolics, broccoli may help aid in detoxification, lower cholesterol, protect against heart disease, and promote healthy skin. It's also a terrific source of anti-inflammatory and cancer-preventing compounds called glucosinolates.
Experimenting to improve preservation
Investigators from the UK and Spain set out to extend broccoli's shelf life and optimize its nutritional profile. The broccoli was grown in two adjacent fields in Spain. One crop was treated with conventional methods, and the other was organically grown (without the use of synthetic pesticides or fertilizers). After harvest, the broccoli was divided into four groups:
conventionally grown with no heat treatment,
conventionally grown with heat treatment,
organically grown with no heat treatment, and
organically grown with heat treatment.
Before treatment, and periodically for eight days, the broccoli was examined for color, weight, and chemical characteristics, including organic acid (like vitamin C and malic acid) and phenolic content, and total antioxidant capacity (a measure of free radical-fighting ability).
Broccoli heads that were assigned to the no-heat-treatment group were dipped in room temperature distilled water for 15 minutes. The heat-treated broccoli was dipped in 122°F water for 15 minutes. The broccoli was then stored for eight days at 68°F.
Organic broccoli lost less moisture during storage than conventionally grown, regardless of heat treatment.
Heat treatment significantly delayed yellowing of organically and conventionally grown broccoli, extending shelf life by six days.
Organic broccoli had significantly higher organic acid content, including vitamin C, just after harvest than did conventionally grown broccoli. Organic acid content declined with storage in all groups. Heat treatment led to faster losses of these valuable organic acids than no treatment.
Phenolic compounds and antioxidant capacity decreased with storage in all groups; however, conventionally grown broccoli had greater losses than organically grown broccoli.
Heat treatment did not affect the phenolic content or antioxidant capacity of the broccoli.
Treat your broccoli right
How you store and prepare your broccoli is just as important as how it's treated before making it to your fridge. Try these tips to optimize broccoli's nutrition:
Seal it well. Store fresh broccoli in an airtight container or bag to help prevent moisture loss.
Chop it up and let it rest. Cut broccoli into bite-size pieces and wait about five minutes before you cook it to help activate the cancer-fighting glucosinolates.
Cook it lightly. Raw broccoli is particularly rich in cancer-fighting glucosinolates and vitamin C. The content of these nutrients tends to decrease with cooking, while the content of antioxidant carotenoids and tocopherols increases when broccoli is cooked. To get the most nutrition out of your broccoli, enjoy it raw or lightly steamed.
(J Sci Food Agric 2012;doi:10.1002/jsfa.5865)
Kimberly Beauchamp, ND, received her doctoral degree from Bastyr University, the nation's premier academic institution for science-based natural medicine. She co-founded South County Naturopaths in Wakefield, RI, where she practiced whole family care with an emphasis on nutritional counseling, herbal medicine, detoxification, and food allergy identification and treatment. Her blog, Eat Happy, helps take the drama out of healthy eating with real food recipes and nutrition news that you can use. Dr. Beauchamp is a regular contributor to Healthnotes Newswire.