HealthNotes
On the Go? Stay Refreshed with Water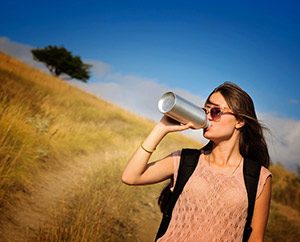 Make sure to bring along a reusable stainless steel water bottle to keep hydrated on the run
Hot or not, it's easy to skimp on water when you're out and about. Most experts agree that adults need about 64 ounces of water each day; children need somewhat less, depending on size, and activity level and weather should be taken into account for everybody.
Keep hydration on hand. Make sure to bring along a reusable stainless steel water bottle to keep hydrated on the run. Avoid reusing single-use plastic bottles (like those used for sale of bottled water), as these can break down and allow the plastic materials to leach into the water.
Pure is preferable. Look for bottles labeled "BPA-free." BPA, or bisphenol-A, is a hormone-disrupting chemical that is used widely in everything from baby bottles to the liners of canned foods. While the jury is out as to how toxic this chemical may prove to be, since no one knows, it's probably wise to avoid it when possible.
Hydrate your kids. In addition to staying safer in hot weather activities, avoiding dehydration also appears to affect focus and clarity in school children, so keep an eye on your kids' drinking habits as well.
Kimberly Beauchamp, ND, earned her bachelor's degree from the University of Rhode Island and her Doctorate of Naturopathic Medicine from Bastyr University in Kenmore, WA. She cofounded South County Naturopaths in Wakefield, RI, and now sees patients in East Greenwich and Wakefield. Inspired by her passion for healthful eating and her own young daughters, Dr. Beauchamp is currently writing a book about optimizing children's health through better nutrition.