HealthNotes
Occasional Chocolate May Support Diabetes Management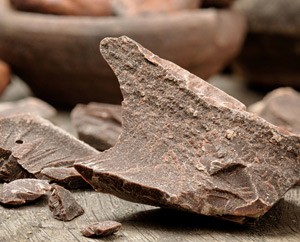 Those who ate chocolate rich in cocoa solids and plant nutrients experienced improvements in cholesterol levels without significant changes in blood sugar
Research has shown that eating "heart-healthy" chocolate may protect against high blood pressure and ultimately heart disease. Now a study in Diabetes Medicine reports on the benefits of chocolate in people with type 2 diabetes—a population at higher risk for heart disease—and found that those who ate chocolate rich in cocoa solids and plant nutrients experienced significant improvements in HDL ("good") cholesterol levels without significant changes in blood sugar control.
Chocolate raises good cholesterol
People with type 2 diabetes are typically told to avoid sweets, but research has shown that certain chocolate rich in cocoa solids and polyphenols (plant compounds that have health benefits) may affect blood sugar less than certain other foods such as potatoes or bread. This study looked at whether or not eating chocolate could help raise HDL cholesterol levels—another goal in preventing heart disease.
In this small study, 12 people with type 2 diabetes were randomly assigned to receive 45 grams of high-polyphenol chocolate (containing 85% cocoa solids) or low-polyphenol chocolate containing cocoa butter alone (containing no nonfat cocoa solids) once a day for 8 weeks. Participants continued their usual diabetes, high blood pressure, and lipid-lowering medications.
Results showed that people who ate the high-polyphenol chocolate had a significant increase in HDL cholesterol, and no significant change in weight or blood sugar control was seen in either group.
The study authors' point out: "This shows a potential for reduction in cardiovascular risk and combined with a lack of any deleterious effects on weight, markers of inflammation, insulin resistance or glycemic control. This appears to occur even in subjects treated with lipid-lowering therapies, indicating a beneficial additive effect through an alternate pathway."
Putting it in perspective
More research is needed. While people with type 2 diabetes are often looking to expand day-to-day diet options, this small study alone probably isn't reason enough to start eating chocolate. A low-HDL-cholesterol level is just one risk factor among many that may contribute to heart disease, and there are a number of ways to raise HDL including regular exercise. Further research is needed about the effects of chocolate on cardiac risk factors and particularly in people with diabetes.
Talk with your doctor. A person with diabetes should always check with their doctor or dietitian before eating sweets such as chocolate, which can significantly raise blood sugar levels and lead to trouble. It is important to remember that the chocolate used in this study was designed specifically for study participants and not the same as the wide variety of chocolate found on most grocery store shelves, which is high in sugar and carbohydrates, low in nutrients, and can quickly raise blood sugar.
Explore your options. If you have type 2 diabetes it is important to meet with a dietitian/nutritionist or diabetes educator who can help you explore day-to-day dietary options and most importantly, can help you learn to choose foods which will provide the most energy with the least effect on blood sugar, and minimize the risk for related chronic diseases, such as heart disease.
(Diabet Med 2010;27:1318–21)
Jane Hart, MD, board-certified in internal medicine, serves in a variety of professional roles including consultant, journalist, and educator. Dr. Hart, a Clinical Instructor at Case Medical School in Cleveland, Ohio, writes extensively about health and wellness and a variety of other topics for nationally recognized organizations, websites, and print publications. Sought out for her expertise in the areas of integrative and preventive medicine, she is frequently quoted by national and local media. Dr. Hart is a professional lecturer for healthcare professionals, consumers, and youth and is a regular corporate speaker.