HealthNotes
News Flash: Soy May Relieve Menopause Symptom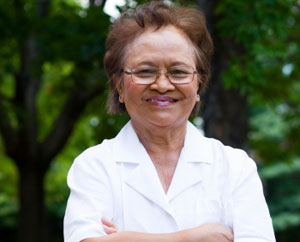 The decrease in the number of hot flashes was greater for women in the soy group compared with the placebo group
Research has shown that
soy
provides relief for some women after
menopause
but not for others. A study in the
Journal of Women's Health
suggests the form of soy a woman takes may be important and found that 10 mg per day of a soy metabolite called S-equol brought hot flash relief to a group of Japanese women.
Soy improves symptoms
In this study, 160 postmenopausal Japanese women with at least one hot flash per day were randomly assigned to receive S-equol, a soy supplement produced from fermentation of soy germ, twice daily or placebo for 12 weeks. The women's symptoms were recorded through questionnaires and diaries at the beginning, during, and after the intervention.
Results showed that among women who had at least three hot flashes per day, the decrease in the number of hot flashes was greater for women in the soy group compared with the placebo group. For those women who reported no hot flashes at the end of the study, 44% were in the soy group and 28% were in the placebo group.
The study authors comment, "The mechanism underlining the reduction in hot flash frequency and severity observed in this study has yet to be identified, although [S-equol] binds to and activates [estrogen receptors]." They add that their study results suggest that "SE5-OH may serve as a promising alternative to conventional hormone therapy for alleviation of hot flashes." They recommend further research to understand more about the benefits and long-term safety of this soy product.
Easing hot flashes naturally
Hot flashes may be mild or severe in women and can be a daytime annoyance and a nighttime thief of sleep. While short-term hormone replacement therapy may be an option for some, other women prefer to use natural treatments. Here are some tips for finding relief:
Talk with a doctor. Tell your doctor about your hot flashes, confirm the cause, and ask about therapies that may help. If you are considering supplements such as vitamins or herbs, talk with a knowledgeable doctor about the benefits and risks of such supplements. Research is still emerging about the benefits and safety of supplements, so it is important to see a healthcare professional who is up to date with the latest information.
Explore complementary therapies. Several complementary therapies may provide relief for women's menopausal symptoms including hot flashes. The National Center for Complementary and Alternative Medicine (NCCAM) suggests that therapies such as acupuncture, yoga, tai chi, meditation, and qi gong may reduce the frequency and intensity of hot flashes.
Find what is right for you. It is important to remember that what helps one woman may not help another. In other words, not all of the above therapies will help all women. We are individuals who respond differently to various therapies, so you may have to search a bit until you find the therapies that work best for you.
(J Women's Health 2012;21:92-100)
Jane Hart, MD, board-certified in internal medicine, serves in a variety of professional roles including consultant, journalist, and educator. Dr. Hart, a Clinical Instructor at Case Medical School in Cleveland, Ohio, writes extensively about health and wellness and a variety of other topics for nationally recognized organizations, websites, and print publications. Sought out for her expertise in the areas of integrative and preventive medicine, she is frequently quoted by national and local media. Dr. Hart is a professional lecturer for healthcare professionals, consumers, and youth and is a regular corporate speaker.