HealthNotes
Mediterranean Diet May Lower Alzheimer's Disease Risk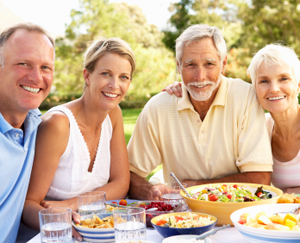 People who followed the Mediterranean diet had a 33% less risk of cognitive impairment and Alzheimer's disease
Dietary choices are known to affect both body and brain. A study in the
Journal of Alzheimer's Disease
reveals that people who regularly eat foods recommended in the
Mediterranean diet
may lower their risk of
Alzheimer's disease
.
Healthy diet as brain protector
In this study, researchers reviewed five studies that included more than 7,000 participants (60 years old or older) and explored the effects of the Mediterranean diet on the risk of impaired thinking (cognitive impairment) or Alzheimer's disease. The study included 2 to 8 years of follow-up.
Results showed that compared with people who followed the Mediterranean diet the least, those who followed it most closely had a 33% less risk of cognitive impairment and Alzheimer's disease. For those people who already had mild cognitive impairment, closely following a Mediterranean diet also reduced the risk of advancing to Alzheimer's disease.
The study authors comment, "This study suggests that there is evidence that a Mediterranean diet may be neuroprotective for mild cognitive impairment and Alzheimer's disease with higher adherence." They also point out the number of studies on this topic is small, and caution that further research is needed to confirm their findings.
Choices matter
Diet right. Research has clearly revealed that what we eat on a regular basis matters when it comes to our health. Following a Mediterranean diet has been linked with a number of protective health benefits, including lowering the risk of heart disease, heart attacks, and stroke. Recommendations in the Mediterranean diet include "a high intake of vegetables, legumes, fruits, cereals, and unsaturated fatty acids (mostly in the form of olive oil), moderate to high intake of fish, low to moderate intake of dairy products, low intake of meat and saturated fatty acids, and regular but moderate intake of alcohol," according to the study authors.
Live well. Diet is one important element for protecting brain health. Other factors that add to brain health include getting regular exercise, not smoking, and avoiding excess alcohol. Studies have also shown that being socially involved and engaging in stimulating activities is good for the brain.
Talk with a doctor. Talk with a knowledgeable doctor about his or her recommendations for protecting the health of your brain.
(J Alzheimer's Dis xx (20xx) x–xx. DOI 10.3233/JAD-130830)
Jane Hart, MD, board-certified in internal medicine, serves in a variety of professional roles including consultant, journalist, and educator. Dr. Hart, a Clinical Instructor at Case Medical School in Cleveland, Ohio, writes extensively about health and wellness and a variety of other topics for nationally recognized organizations, websites, and print publications. Sought out for her expertise in the areas of integrative and preventive medicine, she is frequently quoted by national and local media. Dr. Hart is a professional lecturer for healthcare professionals, consumers, and youth and is a regular corporate speaker.