HealthNotes
Less Nighttime Eating Linked to Weight Loss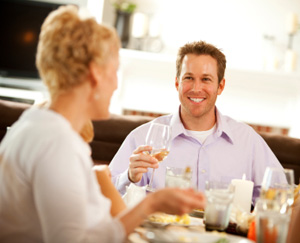 Men restricting nighttime eating lost nearly a pound and ate about 240 calories less per day
Health experts often recommend limiting nighttime eating in order to maintain a healthy weight or to
lose weight
. A study in the
British Journal of Nutrition
supports this advice and found that in young men, restricting eating at night led to fewer calories consumed daily and mild weight loss.
Fewer calories equal less weight
In this study, researchers explored the effects of restricting nighttime eating on calorie intake and weight. Specifically, 29 healthy men (ages 18 to 26 years) of normal weight were assigned to a restricted nighttime eating group (avoid all food and beverages except water between 7 PM and 6 AM), or followed their normal eating patterns (control group), for two weeks. Half of the participants started with the restricted eating intervention and half started in the control group, and then the groups switched. Researchers assessed nutrient intake and body weight during the intervention.
Compared with the control group, participants in the restricted eating group lost nearly a pound, and energy intake was about 240 calories less per day. Participants in the control group each gained more than a pound.
The study authors comment, "This level of energy reduction is modest but similar to other 'small-changes' approaches that may be effective for body weight maintenance." They add that long-term studies are needed to confirm their findings.
Steps to a healthy weight
In healthy people, weight loss and weight maintenance are dependent on the amount of calories we eat and burn off—it's that simple. But various lifestyle behaviors affect this formula and changing habits can be challenging. Exercising regularly and eating fewer calories certainly are important behaviors for optimizing weight.
Some experts have suggested that limiting the amount we eat at night may help weight reduction even though little existing research supports this advice. Screen time tends to be associated with more eating, so watching those evening hours can be the key to staying on top of daily calories, as study authors point out that people tend to eat more as the day progresses. The results of this study suggest that eating less during the evening hours may indeed be another important step to help optimize weight.
A healthy weight is very important for optimal health and for the prevention of disease. If overweight or wanting to maintain a healthy weight, talk with a knowledgeable healthcare professional about useful strategies.
(Brit J Nutr 2013;110:2108–13)
Jane Hart, MD, board-certified in internal medicine, serves in a variety of professional roles including consultant, journalist, and educator. Dr. Hart, a Clinical Instructor at Case Medical School in Cleveland, Ohio, writes extensively about health and wellness and a variety of other topics for nationally recognized organizations, websites, and print publications. Sought out for her expertise in the areas of integrative and preventive medicine, she is frequently quoted by national and local media. Dr. Hart is a professional lecturer for healthcare professionals, consumers, and youth and is a regular corporate speaker.