HealthNotes
Less Is More with Added Sugars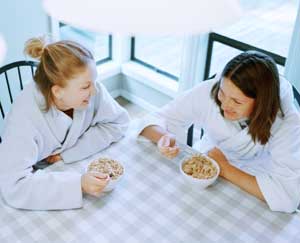 The sugar-diabetes connection: diabetes rates go up in countries when sugar is more available
Human beings are wired to love sugar. It's in our genes, a relic of a time when calories were a lot harder to come by than today. Now, in the Western world, more than enough calories are found at the drive-thru, the corner store, or the nearest vending machine. What does this mean for our collective health? When it comes to added dietary sugars, it means less is probably more.
The big picture
Researchers used United Nations Food and Agricultural Organization data to study the connection between sugar availability in the diets of different populations and type 2 diabetes rates in those groups. They determined availability of six different food categories—sugars, fibers, fruits, meats, cereals, oils, and total food—in calories per person per day, in 175 different countries, for a ten-year period from 2000 to 2010.
Other factors that may affect type 2 diabetes rates, such as how much of a population is rural versus urban, and average levels of income, age, sedentary behavior, and extra weight or obesity were studied as well. The researchers found:
For every additional 150 calories per person per day—about one soda—in sugar availability, the prevalence of type 2 diabetes increased by 1.1%.
The relationship between sugar availability and type 2 diabetes was modified by obesity and carrying extra weight; the effects of sugar were worse for people who carry extra pounds. However, even in the absence of obesity, sugar still increased type 2 diabetes risk.
The sugar-diabetes connection held in positive and negative directions: diabetes rates went up in countries where sugar became more available, and they declined in countries where sugar availability decreased.
No other foods were significantly associated with type 2 diabetes.
Smarter sweetening strategies
The study is observational, so it can't prove cause and effect. Still, the results suggest too much sugar can damage health. Dr. David Katz, MD Director of Yale University's Prevention Research Center notes, "A direct link between sugar and diabetes stands to reason." Adds Marion Nestle, PhD, nutrition and public health professor at New York University, "It shouldn't surprise anyone that eating a lot of sugar is bad for your health."
Our tips can help you find the natural—not added—sweetness in your diet:
Seek slimness. Even in this study, obesity had a stronger tie with type 2 diabetes than sugar availability. Regardless of sugar, if you're significantly overweight, you're still at risk.
Be sugar savvy. Many people believe only high fructose corn syrup (HFCS) is hard on health, due to its fructose content. Not true. Most HFCS is around 55% fructose; white table sugar is about 50% fructose, so when it comes to sugar, "natural cane sugar" products really aren't a better choice. They may contain fewer preservatives, dyes, and food additives though.
Fear not, the fruit. Excess fructose in processed food is problematic but the amount in fruit is not. One soda contains about the same amount of fructose as 14 peaches! According to Dr. Daniel Marks, MD, PhD of Oregon Health & Science University, in Portland, Oregon, "It's nearly impossible to overdo fructose by eating whole fruit."
Go natural. Natural sugars, such as those in whole fruit, are the best way to satisfy your sweet tooth. Limit foods high in added sugars, such as sodas, desserts, sauces, condiments, and other packaged and processed items.
Know the disguises. On labels, sugar, which provides 4 calories per gram, goes by many names, including sucrose, glucose, dextrose, galactose, mannose, fructose, xylose, syrup, barley malt, agave nectar, cane sugar, and many others. A better choice? Avoid food labels altogether. You don't need a label to tell you beans, kale, blueberries, oatmeal, and almonds are healthy choices.
(PLoS ONE 8: e57873. doi:10.1371/journal.pone.0057873)
Suzanne Dixon, MPH, MS, RD, an author, speaker, and internationally recognized expert in chronic disease prevention, epidemiology, and nutrition, has taught medical, nursing, public health, and alternative medicine coursework. She has delivered over 150 invited lectures to health professionals and consumers and is the creator of a nutrition website acclaimed by the New York Times and Time magazine. Suzanne received her training in epidemiology and nutrition at the University of Michigan, School of Public Health at Ann Arbor.