HealthNotes
Ladies: Exercise to Give Your Brain a Boost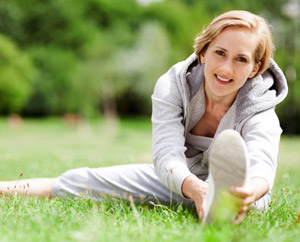 Research has suggested exercising at 75% to 85% of heart rate reserve for 45 to 60 minutes, four times per week
We all need to exercise regularly for optimum health, but physical activity may be particularly beneficial for a woman's brain function as she ages. To stay sharp, keep the following points in mind:
Research has suggested exercising at 75% to 85% of heart rate reserve for 45 to 60 minutes, four times per week.
Heart rate reserve is the difference between your maximum heart rate and your resting heart rate.
To calculate your maximum heart rate, subtract your age from 220. Your resting heart rate is your pulse (heart beats per minute), taken when you are at rest.
To get 75% to 85% of your heart rate reserve, multiple your heart rate reserve by 0.75 and by 0.85. The resulting two numbers give you a range for how many beats per minute your heart should be beating during exercise.
If you want to double check your math, ask your doctor to help you figure out an appropriate exercise level for you. You can ask about this when you are checking in with your doctor to make sure it is safe for you to begin an exercise program.
(Arch Neurol 2010; 67:71–9; The 65 Years and Over Population. Available at: www.census.gov/prod/2001pubs/c2kbr01-10.pdf)
Suzanne Dixon, MPH, MS, RD, an author, speaker, and internationally recognized expert in chronic disease prevention, epidemiology, and nutrition, has taught medical, nursing, public health, and alternative medicine coursework. She has delivered over 150 invited lectures to health professionals and consumers and is the creator of a nutrition website acclaimed by the New York Times and Time magazine. Suzanne received her training in epidemiology and nutrition at the University of Michigan, School of Public Health at Ann Arbor.