HealthNotes
Healthy Produce: Even a Little Can Go a Long Way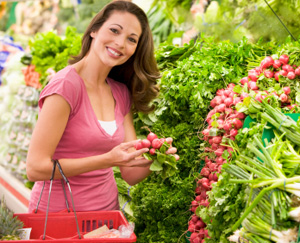 People who ate at least one serving of fruit per day lived an average of 19 months longer than those who ate no fruit
Research from Sweden suggests the standard "five-a-day" recommendation for servings of vegetables and fruit is a good goal. The good news is that even if you don't quite hit this mark, you can still reap benefits from including any amount of these foods in your diet.
Zero servings, zero health benefit
Researchers collected information on height and weight, education level, eating habits, and tobacco and alcohol use from 71,706 Swedish men and women. The participants were 45 to 83 years old, and none had a known history of heart disease, diabetes, or cancer. After following the group for 13 years, the study authors noted:
People who reported eating five servings of vegetables and fruit daily lived an average of three years longer compared with people who did not.
People who ate at least one serving of fruit per day lived an average of 19 months longer than those who ate no fruit.
People who ate three servings of vegetables daily lived 32 months longer than people who ate no vegetables.
People eating no fruit or vegetables at the start of the study were 53% more likely to die during the 13-year follow-up than those who ate five-a-day.
Eating more than five servings of vegetables and fruit daily did not appear to improve overall survival beyond the five-a-day benefit.
Five-a-day still stands
While this study is observational, and therefore cannot prove cause and effect, it still agrees with previous research, and suggests that five servings of vegetables and fruit per day is a healthy goal. Alicja Wolk, study author and a professor in environmental medicine at the Karolinska Institute in Stockholm, Sweden, notes, "When I speak to lay people, I actually say, 'Eat vegetables more than fruit, but eat both.'" Our tips can help you put this sage advice into practice:
Real men eat plants. This study noted that women tend to eat more vegetables and fruit than men. Don't let gender be a barrier to healthy eating. Make an effort to fix the healthy-eating gender gap.
Veggies trump fruit. As Dr. Wolk noted, it's good practice to focus on vegetables. There's nothing wrong with fruit, but vegetables tend to give you more nutritional bang for your buck—lots of vitamins and minerals, with fewer calories.
Some better than none. While five-a-day is the goal, even adding one or two servings of vegetables and fruit is a healthy choice. In this study, just one serving of fruit per day was linked with nearly two more years of life, on average.
Swedish lifestyle for longevity. Sweden ranks fourth in the world for life expectancy (82 years). By comparison, the US ranks 33rd (79 years) behind Sweden, as well as countries such as Great Britain (27th, 80 years) and Germany (17th, 81 years). In addition to a better diet, adopting other Swedish habits, such as maintaining a healthy body weight, skipping the cigarettes, and exercising more can improve quality and length of life.
(Am J Clin Nutr 2013;98:454–9)
Suzanne Dixon, MPH, MS, RD, an author, speaker, and internationally recognized expert in chronic disease prevention, epidemiology, and nutrition, has taught medical, nursing, public health, and alternative medicine coursework. She has delivered over 150 invited lectures to health professionals and consumers and is the creator of a nutrition website acclaimed by the New York Times and Time magazine. Suzanne received her training in epidemiology and nutrition at the University of Michigan, School of Public Health at Ann Arbor.