HealthNotes
Healthy Eating May Prevent Pregnancy-Related Diabetes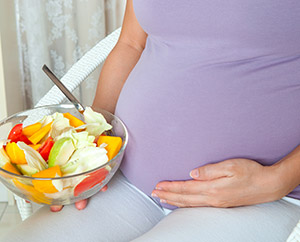 Those with the highest Healthy Eating Index scores reduced their risk by 46%
How much can a healthy diet protect a woman's health during pregnancy? A new study says it might help a lot, finding that women who stick to any of three healthy dietary patterns—a Mediterranean diet, DASH (Dietary Approaches to Stop Hypertension), or the Healthy Eating Index—can dramatically reduce women's risk of one of the most common complications of pregnancy: gestational diabetes.
The study, published in the
American Journal of Clinical Nutrition
, followed more than 15,000 healthy women, all participating in the large and ongoing Nurses' Health Study, through approximately 21,000 births. The women filled out food questionnaires before pregnancy and these were analyzed to determine how closely their usual diets resembled established healthy eating guidelines.
Measuring the effect of a healthy diet
The women were given three scores to reflect the similarity of their eating habits to three different dietary patterns. All three diets encouraged high intakes of fruits, vegetables, nuts, and legumes. In addition:
Mediterranean diet scores increased with higher amounts of whole grains and fish, moderate intake of alcohol, and low consumption of red meat and saturated fats;
DASH scores increased with higher amounts of whole grains and low-fat dairy foods, and low intakes of red meat, sugary beverages, and sodium (salt);
and, Healthy Eating Index scores were higher in women who consumed greater amounts of cereal grains and moderate amounts of alcohol, had more white than red meat, took a daily multivitamin, and limited their intake of trans and saturated fats.
Healthy eating habits predict a healthy pregnancy
The study found that:
Women who stuck closely to any of the healthy diets were less likely to develop gestational diabetes.
Compared with low-scoring women, women with the highest Mediterranean diet scores reduced their risk by 24%, those with the highest DASH scores reduced their risk by 34%, and those with the highest Healthy Eating Index scores reduced their risk by 46%.
The Healthy Eating Index eating pattern was significantly more powerful at protecting against gestational diabetes than either of the other two eating patterns.
It appeared that none of the individual dietary components were responsible for the protective effects. This suggests that all of the aspects of a healthy eating pattern work together to protect women.
"All three dietary patterns were significantly associated with a reduced risk of gestational diabetes mellitus, suggesting a potentially robust role of a variety of dietary factors in the development of gestational diabetes mellitus," the study's authors said.
Eat well before pregnancy
In this study, having regular healthy eating habits before pregnancy was associated with a lower risk of developing diabetes during pregnancy. Below are some steps you can take now to support you later if you become pregnant. Of course, it's always a good idea to consult a doctor before incorporating the following tips.
Maintain a healthy weight. Women who are overweight prior to pregnancy are at higher risk of developing gestational diabetes as well as other dangerous pregnancy complications.
Exercise regularly. Staying fit before and during pregnancy may help keep blood sugar levels stable and prevent pregnancy complications including gestational diabetes. Aim for 30 minutes of moderate-intensity physical activity, most days of the week.
Remember the components of a healthy diet. That is, fruits, vegetables, whole grains, nuts, seeds, legumes, lean meats, and low fat or fat free dairy (in particular cultured milk products like yogurt or kefir). Generally, stick to foods high in fiber and low in fat and calories.
Consider a multivitamin. Regular multivitamin use may have contributed to the more powerful effect of the Healthy Eating Index dietary pattern.
(Am J Clin Nutr 2012;96:289–95)
Maureen Williams, ND, completed her doctorate in naturopathic medicine at Bastyr University in Seattle and has been in private practice since 1995. With an abiding commitment to access to care, she has worked in free clinics in the US and Canada, and in rural clinics in Guatemala and Honduras where she has studied traditional herbal medicine. She currently lives and practices in Victoria, BC, and lectures and writes extensively for both professional and community audiences on topics including family nutrition, menopause, anxiety and depression, heart disease, cancer, and easing stress. Dr. Williams is a regular contributor to Healthnotes Newswire