HealthNotes
Good Humor Is Good Medicine for Seniors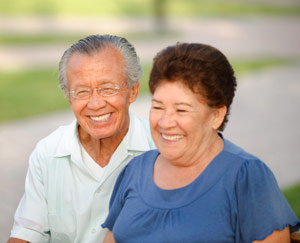 Previous studies have found that humor can help alleviate job-related stress and enhance coping skills
Laughing it up not only lifts the spirit, but it might also help you get a better night's sleep. According to a study in Geriatrics & Gerontology International, laughter therapy is a cost-effective, easily accessible intervention that can help ease depression and sleep issues in older people.
Several studies have supported the old saying, showing the benefits of a good belly laugh for people with chronic illnesses, but not as much is known about laughter's effects on physically healthy older people.
Make 'em laugh
A Korean study compared the effects of a four-week laughter therapy program with a control group (no laughter therapy) on measures of depression, insomnia, sleep quality, thinking (cognitive) function, and health-related quality of life in 109 senior citizens (average age 75 years).
A nurse trained in laughter therapy carried out the weekly, one-hour sessions in a local community center. During the sessions, the participants were shown videos explaining the health benefits of laughter therapy. They also engaged in "on cue" laughing, laughter meditation sessions, and spontaneous laughter in response to the moderator's singing and dancing and other group activities. The nurse moderator also taught the participants about the power of positive thinking and shared with them strategies for incorporating positive thoughts into their everyday lives.
At the end of the four weeks, depressive symptoms improved significantly among the people in the laughter group, but not in the control group. People in the laughter group had significant improvements in some measures of health-related quality of life, including vitality, general health, and mental health. Sleep quality and insomnia also improved significantly after laughter therapy. No changes in cognitive function were noted in either group.
The best medicine
Previous studies have found that humor can help alleviate job-related stress and enhance coping skills in older people. Laughter also appears to boost immune function, increase pain tolerance, and enhance blood flow to the heart and brain.
More studies are needed to confirm the positive results seen in this one, although it probably won't take a slew of research to prove what we already know: it's just plain fun to have good laugh.
"I always enjoy sharing a chuckle with my patients. It just seems to lighten the air in the room and I feel like it allows for deeper healing to start taking place," says Clara Barnett, a naturopathic physician and acupuncturist in Manhattan.
(Geriatr Gerontol Int 2011;doi:10.1111/j.1447–0594.2010.00680)
Kimberly Beauchamp, ND, received her doctoral degree from Bastyr University, the nation's premier academic institution for science-based natural medicine. She co-founded South County Naturopaths in Wakefield, RI, where she practiced whole family care with an emphasis on nutritional counseling, herbal medicine, detoxification, and food allergy identification and treatment. Her blog, Eat Happy, helps take the drama out of healthy eating with real food recipes and nutrition news that you can use. Dr. Beauchamp is a regular contributor to Healthnotes Newswire.