HealthNotes
Good Food a Good Asthma-Management Tool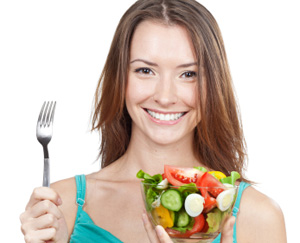 Vegetables and fruits provide a wide array of antioxidant and other nutrients that might help reduce inflammation
"Five a day" is surely good advice for people wanting to improve their long-term health, but, for people with
asthma
, the effects of eating lots of fruits and
vegetables
may be more immediate. A study found that the lungs of people with asthma functioned better when they ate a diet high in vegetables and fruit, compared with people on a diet low in vegetables and fruit after just two weeks. The same study also found that taking an antioxidant supplement for 12 weeks was not as effective as eating a high-antioxidant diet.
Comparing diets and supplements
The study, published in the American Journal of Clinical Nutrition, included 137 adults with asthma. They were assigned to one of three groups:
A high-antioxidant-diet group, who ate 5 servings of vegetables and 2 servings of fruits every day
A low-antioxidant-diet-plus-supplement group, who ate no more than 2 servings of vegetables and 1 serving of fruit per day and took a daily supplement
A low-antioxidant-diet-plus-placebo group, that ate the same diet and took a daily supplement of no nutritional value
After the first two weeks eating their assigned diets, participants added either an antioxidant supplement (a tomato extract providing 45 mg of the antioxidant, lycopene, per day) or placebo for an additional 12 weeks.
Eat your antioxidants for the best effect
Several important differences were found:
Breathing tests showed that respiratory function worsened in people on the low-antioxidant diet after two weeks, but was unchanged in people eating the high-antioxidant diet.
Asthma symptoms were more likely to increase in people on the low-antioxidant diet than people on the high-antioxidant diet.
Levels of CRP (C-reactive protein, an inflammatory chemical in the blood) increased by week 14 in people on the low-antioxidant diet, but not in people on the high-antioxidant diet. (There are health advantages to decreasing inflammation.)
Taking the tomato-extract supplement had no impact on the negative effects of being on the low-antioxidant diet.
"We found that a low-antioxidant diet led to a reduction in lung function and an increased risk of asthma exacerbation compared with a high-antioxidant diet," the study's authors said. "Whereas antioxidant supplements and dietary manipulation both increased antioxidant concentrations [in the blood], clinical improvements were evident only after the high-antioxidant diet, which suggests that whole food interventions are most effective."
Eating for better asthma control
Vegetables and fruits provide a wide array of antioxidant and other nutrients that might help reduce inflammation and manage inflammatory conditions like asthma.
In addition to lycopene, here are some of the many antioxidants from vegetables and fruits that might benefit people with asthma:
Vitamin C. Vitamin C is important for keeping all kinds of inflammation at bay, and supplements have been found to be helpful in treating asthma, especially exercise-induced asthma.
Beta-carotene. In the same family as lycopene, beta-carotene is an antioxidant that gives plants yellow, red, and orange color. People with asthma have been found to have low blood levels of beta-carotene.
Quercetin. This flavonoid is found in many fruits and vegetables and might help to control the release of histamine in people with allergies and asthma.
Proanthocyanins. This family of plant compounds gives blue, red, and purple color to flowers and fruits. They are strong antioxidant and anti-inflammatory nutrients, and studies have suggested that certain plant extracts that are high in proanthocyanins may aid in asthma management.
(Am J Clin Nutr 2012;96:534–43)
Maureen Williams, ND, completed her doctorate in naturopathic medicine at Bastyr University in Seattle and has been in private practice since 1995. With an abiding commitment to access to care, she has worked in free clinics in the US and Canada, and in rural clinics in Guatemala and Honduras where she has studied traditional herbal medicine. She currently lives and practices in Victoria, BC, and lectures and writes extensively for both professional and community audiences on topics including family nutrition, menopause, anxiety and depression, heart disease, cancer, and easing stress. Dr. Williams is a regular contributor to Healthnotes Newswire.