HealthNotes
Get the Game Plan for a Terrific Tailgate Party
Kick-Off Tips Make Pre-Game Picnics Easy & Delicious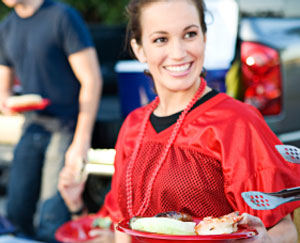 Take along dishes guaranteed to fuel fans
Pack a picnic, collect your home team, and head for the game! Enjoying a pregame parking lot party with friends is a favorite American social gathering—even if your car lacks an official tailgate.
Take along dishes guaranteed to fuel fans (with a few easy tricks to make them both delicious and healthy). Make your menu easy by planning and preparing ahead, grilling burgers and/or sausages on-site, and toting easy-to-serve side dishes everyone will cheer.
Plan ahead for easy parking lot picnicking
For starters, decide whether it's pot luck or not (if so, divvy up the menu and keep a list of who's bringing what). Check whether grilling is allowed, and what beverages can be brought on-site; some stadiums may restrict alcoholic drinks. Keep an eye on the weather, and have Plan B ready if dry skies aren't forecast. Begin by packing the basics:
Portable grill with a starter, charcoal or (preferably) propane
Meat thermometer
Knife, cutting board, eating and serving utensils
Bottle opener, wine opener
Condiments: ketchup, mustard, mayo, pickle relish
Recyclable plates (paper or bamboo), paper or cloth napkins
Collapsible chairs and/or table, table cloth
Ice chest and ice (freeze bottles of water to pack less ice)
Hand wipes, roll of paper towels
Roll of plastic wrap and extra plastic containers for leftovers
Go simple so you can party too
When planning the menu, think easy-to-transport and easy-to-serve dishes that can be made a day or two in advance and served at room temperature. For green salads, toss with dressing just before serving. Appetizers, salads, and side dishes can follow a theme—Mexican, Thai—or be traditional picnic favorites. Standard picnic fare such as grilled burgers, sausages, London broil, and/or hot dogs make a terrific main dish. (Remember food safety rules and transport meat frozen or on ice at a temperature around 40°F.) And don't forget dessert!
Here's how much you need to cook for 10 guests (with some healthy substitution suggestions):
3 1/2 cups dip or salsa
60 appetizers (bite style)
3 pounds potatoes (for potato salad)
1 pound dry/uncooked pasta (for pasta salad)
2 to 3 heads of lettuce (for green salad)
20 hot dogs (try turkey or veggie)
4 pounds hamburger meat (try substituting 1 pound with a box or two of vegetarian burgers)
10 to 20 pieces of dessert
Featured players 
Starters
Dip into tasty starters, such as prepared salsa, hummus or babaganoosh with corn or pita chips:
Sidelines
Select transportable salads and side dishes, such as your favorite coleslaw, pasta or potato salad:
Sweet victory
Get ready to cheer with cake and cookies:
Judith H. Dern's favorite NFL team has long been the San Francisco 49ers, a secret now that she lives in Seahawks territory.