HealthNotes
Gal's Guide to Sexual Health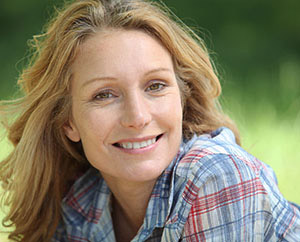 Several studies have found a clear link between exercise and sexual desire, arousal, and satisfaction
Sexual Dysfunction
Women may experience sexual dysfunction related to physical or psychological factors, and may include painful intercourse, lack of arousal or desire, and the inability to have an orgasm.
For more comfortable sex
Try different positions. Experiment to find what feels best for you.
Get checked out. If sex is usually (or suddenly) painful, tell your doctor. Causes such as hormone fluctuations, ovarian cysts, and endometriosis may be treatable.
Lubricate. Water-based lubricants without synthetic ingredients like propylene glycol, perfumes, or parabens are a good choice. Oil-based lubricants (even natural food-grade oils), can break down condom material and increase risk of vaginal infection. Do it yourself: You can even make your own natural lubricant by boiling 2 tablespoons of flaxseeds in 2 cups of filtered water for 10 minutes. Cool, strain to remove the seeds, and store in the fridge in an airtight container.
Black cohosh may relieve vaginal dryness and other symptoms related to menopause, like migraines, night sweats, and mood swings. Studied intake: 20 to 40 mg of standardized extract per day.
To boost libido
Get active. Several studies have found a clear link between exercise and sexual desire, arousal, and satisfaction. And don't overlook the power of working out together: in some women, just smelling her partner's sweat can be arousing, an effect related to hormonal changes caused by exposure to a chemical in sweat called androstadienone. Practicing yoga may also help increase blood flow to key arousal areas.
Treat underlying causes. Diabetes, high blood pressure, anxiety, depression, stress, relationship problems, certain medications, and changes in the body after childbirth or menopause may all lead to sexual dysfunction in women. Get regular check-ups and be sure to share your symptoms with your doctor.
Consider arginine. An amino acid that may help relax blood vessels and improve blood flow. While more widely used for erectile dysfunction in men, evidence suggests that it also may improve sexual desire in women. Studied intake: 2 grams per day.
Consider chasteberry (vitex). This herb may increase progesterone and dopamine levels, enhancing libido. Studied intake: 20 to 40 mg per day.
Consider ginseng. With a long history of use as an aphrodisiac, research suggests it may indeed help improve arousal in menopausal women. Studied intake: 1 to 4 grams of dried root capsules or 200 to 500 mg of standardized extract per day.
Consider maca. This Peruvian herb root may increase sexual desire, possibly by increasing blood flow to the pelvic organs. Studied intake: 1,500 to 3,000 mg per day.
Common Vaginal Infections
Yeast infections: A familiar (unwelcome!) occurrence for many women. It is usually caused by an overgrowth of Candida albicans, a fungus that thrives in warm, moist environments. When the normal vaginal ecosystem balance is disrupted by antibiotics, stress, hormonal shifts, or other causes, yeast may multiply, causing copious white vaginal discharge and redness and itching of the outer skin (the vulva).
Bacterial vaginosis (BV): The most common vaginal infection in women of child-bearing age, which may cause a thin, grayish discharge with a fishy odor and mild vulvar itching or burning. Left untreated, BV can lead to several complications, including pelvic inflammatory disease, premature labor and infant death, and postpartum uterine infection.
Trichomonas vaginalis: A sexually transmitted protozoal infection. Women with this infection commonly complain of frothy yellow-green discharge, pain during intercourse, and painful urination.
For vaginal infections
See a doctor. Self-treating vaginal infections isn't always wise, as certain symptoms are common to several types and an accurate diagnosis is key to proper treatment.
Choose cotton undies. Yeast needs moisture to survive, and cotton helps keep the area drier. During a yeast infection, wear a natural fiber panty liner and change it frequently. Avoid materials that don't breathe, like polyester and nylon.
Loosen up. Avoid tight-fitting jeans. The tighter the clothing, the more likely yeast will be able to thrive.
Boost your immune system. No matter what's causing the infection, strengthening the immune system will help your body fight it off, so avoid sugar, processed carbs, and alcohol.
Go pro. Cultured probiotic foods like yogurt, kefir, and sauerkraut contain beneficial microorganisms that help shift the balance of the vaginal bacteria in favor of healthy bugs.
Cover up. Trichomonas is the only form of sexually transmitted vaginitis, though condoms may also help reduce the spread of yeast infections and BV.
Consider boric acid capsules. These internal suppositories may help clear up acute and chronic yeast infections. Studied intake: 600 mg capsule inserted into the vagina every morning and evening for 3 to 14 days, depending on the severity of the infection.
Consider garlic. Known for its antifungal and antimicrobial activities, garlic may help combat chronic yeast infections and BV. Studied dose: 1 capsule of garlic extract 1 to 2 times per day for two weeks.
Consider Oregon grape. This herb may help fight BV by enhancing the immune system and suppressing the organism itself. Studied dose: ½ tsp taken in water one to two times per day for two weeks.
Kimberly Beauchamp, ND, received her doctoral degree from Bastyr University, the nation's premier academic institution for science-based natural medicine. She co-founded South County Naturopaths in Wakefield, RI, where she practiced whole family care with an emphasis on nutritional counseling, herbal medicine, detoxification, and food allergy identification and treatment. Her blog, Eat Happy, helps take the drama out of healthy eating with real food recipes and nutrition news that you can use. Dr. Beauchamp is a regular contributor to Healthnotes Newswire.