HealthNotes
For Underprivileged Kids, Early Eating May Impact Obesity Outcomes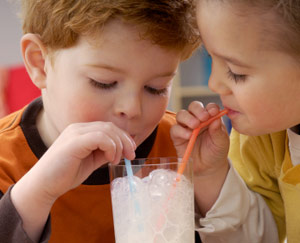 Poor feeding practices accounted for most of the increased obesity risk in lower income babies
Mothers who
breast-feed
their babies, delay introducing them to solid foods, and who avoid giving their baby a bottle at bedtime may help offset the increased risk of
obesity
that faces many children from lower-income families, reports a study in
Pediatric Obesity.
Socioeconomic status is tied to childhood obesity
Studies have shown an association between being from poorer families and increased obesity risk. But what is it, exactly, about a child's socioeconomic status that causes this connection? Is it what the babies are eating? Certain characteristics of the mother? Researchers from Brigham Young University in Utah set out to answer these questions in a study of more than 8,000 infants.
Healthy feeding practices lower obesity risk
Data from the Early Longitudinal Childhood Study was collected when the children were nine months old and again at age two. The researchers looked at these factors:
The child's weight at age two
The family's socioeconomic status
Maternal characteristics, including body mass index (BMI; a measure of body fatness) prior to pregnancy, age at the child's birth, smoking status, and history of depression
If and for how long the baby was breast-fed
If the baby was predominantly breast-fed, formula-fed, or both
If the baby was put to bed with a bottle
The age at which the baby was introduced to solid foods
Here's what they found:
Children from the lowest income brackets were less likely to be breast-fed, more likely to be introduced to solids before four months, and more likely to be put to bed with a bottle.
Predominantly formula-fed babies were 2.5 times more likely to be obese at age two than breast-fed babies.
Putting baby to bed with a bottle upped obesity odds by 30% and early introduction of solids increased the risk by 40%.
Poor feeding practices accounted for most of the increased obesity risk in lower income babies. The mother's BMI, age at birth, and smoking and depression status were only minor contributors to the risk.
Lead study author Dr. Benjamin Gibbs commented that babies from socioeconomically disadvantaged backgrounds "appeared to experience a number of risk factors starting at birth that put them on a trajectory towards early childhood obesity," and that, "If low socioeconomic status mothers can be educated about the benefits of adopting healthy infant feeding practices, the effects of their socioeconomic status on their child's obesity risk can be diminished."
(Pediatr Obes 2013;doi:10.1111/j.2047-6310.2013.00155)
Kimberly Beauchamp, ND, received her doctoral degree from Bastyr University, the nation's premier academic institution for science-based natural medicine. She co-founded South County Naturopaths in Wakefield, RI, where she practiced whole family care with an emphasis on nutritional counseling, herbal medicine, detoxification, and food allergy identification and treatment. Her blog, Eat Happy, helps take the drama out of healthy eating with real food recipes and nutrition news that you can use. Dr. Beauchamp is a regular contributor to Healthnotes Newswire.