HealthNotes
For Future Health, What You Eat and Drink Today Matters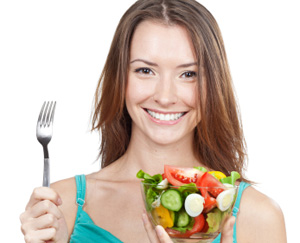 People who ate a healthier diet—including fruits, vegetables, fish, nuts, and whole grains—had a 23% lower risk of metabolic syndrome
What you choose to eat today can affect your health 20 years from now. A study in the
American Journal of Clinical Nutrition
suggests that people who eat a healthy diet with more fruits and veggies and fewer processed foods and diet drinks may lower their risk for metabolic syndrome, a set of markers that together indicate the risk for future disease, including 
diabetes
.
Healthy diet pattern protects metabolism
In this study, researchers looked at 4,161 people enrolled in the Coronary Artery Risk Development in Young Adults (CARDIA) study and examined the effects of dietary patterns and diet-beverage consumption on health risks over 20 years. Specifically, the study looked at the risk of metabolic syndrome, which is defined as having three or more of the following:
A high waist circumference (35 inches or greater for women and 40 inches or greater for men),
high fasting blood glucose levels (100 mg/dl or higher),
high blood pressure (130/85 mm Hg or higher),
high triglyceride levels (150 mg/dl or higher), and
low HDL ("good") cholesterol levels (less than 50 mg/dl).
Results showed that, among all of the participants, people who ate a healthier diet—including fruits, vegetables, fish, nuts, and whole grains—had a 23% lower risk of metabolic syndrome compared with people who ate a typical Western diet, which included fast food, meat, poultry, pizza, and snacks.
People who did not drink diet beverages had a 19% lower risk of metabolic syndrome compared with people who did.
The study authors comment, "Our results suggest that both overall dietary pattern and diet beverage consumption status are important, to various degrees, for different metabolic outcomes." They also point out that as an observational study, their findings do not prove that diet drinks are linked to poor cardiovascular health, and that further research is needed.
Eating for the future
It's important to make wise choices now for better health later. According to the study authors, "a behavior that was in place by age 18 to 30 years predicted metabolic outcomes as far as 20 years into the future." So here are some tips on how to choose wisely and eat healthy now:
Snacking. The best way to have healthy snacks in the house is to plan ahead. On a Sunday night you might cut up fruit in chunks and store it in the fridge, and when you get the urge for a snack reach for the fruit instead of unhealthy alternatives. Or put small handfuls of trail mix with nuts and seeds into a baggie keeping the quantity between 100 and 200 calories and reach for that high-energy treat when you're feeling hungry.
Meal planning. Again, planning ahead is the key to health. Plan as many meals as you can at the beginning of the week and shop so you have the ingredients on hand. Follow the well-known advice of including an abundance of fruits and veggies, and make sure fish, grains, and nuts and seeds are in your diet. Remember: Don't shop when you are hungry as that is when we tend to purchase more unhealthy, processed items and things we don't need.
Drinks. When you are thirsty, try to reach for water or water with some natural lemon juice. High-sugar drinks on a regular basis can increase your health risk, and now some research suggests that drinking diet drinks on a regular basis may also increase your risk for weight gain and poor health. The reasons that diet drinks may do this are not known and may not be from the diet drink itself but rather from other dietary choices that a person makes.
(Am J Clin Nutr 2012;95:909–15)
Jane Hart, MD, board-certified in internal medicine, serves in a variety of professional roles including consultant, journalist, and educator. Dr. Hart, a Clinical Instructor at Case Medical School in Cleveland, Ohio, writes extensively about health and wellness and a variety of other topics for nationally recognized organizations, websites, and print publications. Sought out for her expertise in the areas of integrative and preventive medicine, she is frequently quoted by national and local media. Dr. Hart is a professional lecturer for healthcare professionals, consumers, and youth and is a regular corporate speaker.