HealthNotes
For Best Health, Don't Forget the D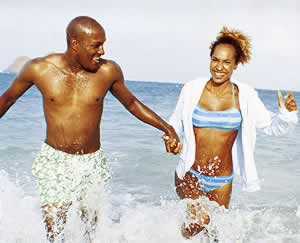 People with vitamin D insufficiency were approximately 1.2 times more likely to die of any cause
Vitamin D
has been a darling of the nutrition world in recent years. Everything from fighting cancer to decreasing
heart disease risk
is attributed to the sunshine vitamin, and emerging research suggests we should aim to maintain vitamin D levels above a certain minimum number for best health.
Decreased D associated with increasing risk
Researchers measured blood vitamin D levels in 9,578 German adults, aged 50 to 74, and followed this group for a median of nine and a half years. The researchers collected information on other health-related factors, including multivitamin supplement use, fish consumption, physical activity, obesity, smoking, blood levels of cholesterol and C-reactive protein (a measure of inflammation in the body), and presence of kidney disease, high blood pressure, diabetes, cancer, and heart disease.
After accounting for these other factors, compared with people who had sufficient vitamin D levels—at least 50 nmol per liter (20 ng per milliliter)—people who were vitamin D–deficient (blood levels below 30 nmol per liter [12 ng per milliliter]) were
1.7 times more likely to die of any cause,
1.4 times more likely to die of cardiovascular disease,
1.4 times more likely to die of cancer, and
2.5 times more likely to die of respiratory disease.
People with vitamin D insufficiency, classified as a blood level of 30 to 50 nmol per liter (12 to 20 ng per milliliter), were approximately 1.2 times more likely to die of any cause. The researchers noted that people with vitamin D levels between 50 and 75 nmol per liter (20 to 30 ng per milliliter), which are considered normal, had a small increased risk of death compared with people with blood levels above 75 nmol per liter.
The risk of death due to any cause was not increased or decreased for adults with blood levels between 75 and 140 nmol per liter (30 to 56 ng per milliliter).
Find your vitamin D sweet spot
This study is observational, and cannot prove cause and effect. Still, it suggests that maintaining adequate vitamin D levels may be important for protecting the health of older adults, and the findings agree with previously published research. The study authors noted, "Our results support the importance of additional research on the potential of lowering mortality by ensuring an adequate vitamin D supply."
Try these tips to help you find your vitamin D sweet spot:
Look at latitude. For much of the US—north of Atlanta, Georgia—the sun is not strong enough in the winter months to allow our bodies to make vitamin D with exposure to sunlight.
Color counts. If your skin is darker, it takes more sun exposure to make vitamin D compared with a person with less pigmented skin. You may need more vitamin D from diet or supplements to avoid deficiency. Ask your doctor whether supplements are right for you.
Get tested. Laboratory techniques for analyzing vitamin D have improved greatly in recent years. Ask your doctor for a vitamin D check at your next visit. If you come up short, discuss how much vitamin D you need to bring levels into the normal range.
Aim for the middle. This study didn't show further benefit with vitamin D levels above 75 nmol per liter (30 ng per milliliter), and other research has hinted that too much vitamin D may not be good for health. Ask your doctor how much to supplement to keep levels steady. Most people need a much lower dose of vitamin D long-term, compared with what is required to raise deficient levels into the normal range.
(Am J Clin Nutr 2013;97:782–93)
Suzanne Dixon, MPH, MS, RD, an author, speaker, and internationally recognized expert in chronic disease prevention, epidemiology, and nutrition, has taught medical, nursing, public health, and alternative medicine coursework. She has delivered over 150 invited lectures to health professionals and consumers and is the creator of a nutrition website acclaimed by the New York Times and Time magazine. Suzanne received her training in epidemiology and nutrition at the University of Michigan, School of Public Health at Ann Arbor.