HealthNotes
Fish a Good Choice for Women with Ovarian Syndrome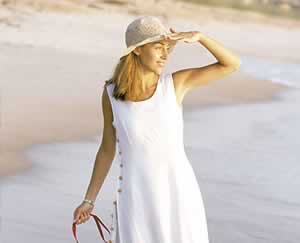 Omega-3 fats may have a positive impact on hormone levels and cardiac risk in women with polycystic ovary syndrome
Imbalanced hormone levels, in which a woman's testosterone is too high and her estrogen too low, are the mark of a condition known as polycystic ovary syndrome, which carries an increased heart disease risk among other complications. Omega-3 fats from fish are widely accepted as heart-healthy, and a study published in the American Journal of Clinical Nutrition indicates that omega-3 fats may also have a positive impact on hormone levels and cardiac risk in women with polycystic ovary syndrome.
Omega-3 fats pass three tests
The researchers conducted three experiments to examine how omega-3 fats from fish affect women with polycystic ovary syndrome.
In the first, they compared omega-3 fatty acid levels to hormone and cholesterol levels in 104 women with the condition.
In the second, 22 of the women were assigned to take either 4 grams of fish oil (providing 2.4 grams of omega-3 fats) per day or placebo for six weeks. Their cholesterol and hormone levels were measured at the beginning and end of the trial.
In the third, the researchers compared the effects of omega-6 fats to omega-3 fats on hormone production in cells in the laboratory.
The three experiments led to the following findings:
Women with higher levels of omega-6 fatty acids (from many plant oils and especially animal fats) and higher ratios between omega-6 and omega-3 fatty acids had higher testosterone levels than women with lower omega-6 levels and lower ratios.
Women with higher baseline omega-3 levels had healthier cholesterol and triglyceride levels.
Bioavailable testosterone (also called free testosterone) levels decreased in women taking the fish oil supplements.
Cells in the laboratory produced more male hormones (androgens) when they were treated with omega-6 fatty acids from animal fat.
Finding the balance
"Findings from our three experiments show that a balance between omega-6 and omega-3 fatty acids that favors omega-3 can have a positive impact on hormone and lipid levels in women with polycystic ovary syndrome," said study co-author Dr. James Gibney at the Adelaide and Meath Hospital in Dublin, Ireland. "A diet that emphasizes omega-3 fats is likely to be particularly healthy."
In addition to adding a fish oil supplement, women with polycystic ovary syndrome might benefit from taking these dietary measures:
Reduce dairy fat. Butter, cheese, cream, and ice cream are rich in the omega-6 fat found in this study to be associated with higher testosterone levels and greater risk of heart disease.
Stick to lean meat. Meat fat, whether it is from beef, chicken, or pork, is also a source of less-healthy omega-6 fats.
Have a serving of fatty fish once or twice a week. In this study, the omega-3 fats in fish such as salmon, herring, and tuna were found to reduce testosterone levels. Previous research shows that these fats can reduce abdominal fat, lower cholesterol levels, reduce inflammation in the blood vessels, and prevent heart disease.
(Am J Clin Nutr 2011;93:652–62)
Maureen Williams, ND, received her bachelor's degree from the University of Pennsylvania and her Doctorate of Naturopathic Medicine from Bastyr University in Seattle, WA. She has a private practice on Cortes Island in British Columbia, Canada, and has done extensive work with traditional herbal medicine in Guatemala and Honduras. Dr. Williams is a regular contributor to Healthnotes Newswire.