HealthNotes
Finding the Folic Acid, Vitamin B Balance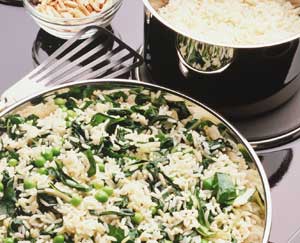 Few people exceed the recommended upper limit of 1,000 mcg of folic acid per day
Folic acid is a B vitamin that our diet provides when we eat leafy greens, dry beans, and some fruits and other vegetables. Most cereal and grain products are fortified with folic acid because of a 13-year-old US Food and Drug Administration policy. In addition to natural and fortified sources, many popular nutritional supplements provide a significant amount of folic acid, leading researchers to wonder if some people might be getting too much. A new report published in the American Journal of Clinical Nutrition answers their concerns: less than 3% of Americans exceed the recommended upper limit of 1,000 mcg of folic acid intake per day, and all of them get a portion of their folic acid from supplements.
The report comes from the 2003–2006 National Health and Nutrition Examination Survey (NHANES, a large survey of health habits in the US) and includes data from 8,258 nonpregnant adults. The intakes of enriched cereal and grain products (such as breads, white rice, and egg noodles), ready-to-eat cereals, and supplements were considered. People who did not take nutritional supplements were not at risk of getting too much folic acid; however, those who got folic acid from nutritional supplements, and especially those who also ate enriched grain products and fortified cold cereals, were at risk for getting more than the recommended maximum daily amount.
Too much of a good thing
Folic acid deficiency during pregnancy has been linked to neural tube defects in newborns, and low intake of folic acid has been associated with depression and cardiovascular disease. There is some evidence that supplementing with folic acid might prevent Alzheimer's disease and certain types of cancer, although other research suggests that excessive folic acid supplementation could increase the risk of colorectal cancer.
For most people, supplementing with folic acid is extremely safe, however, one danger in getting too much is that it can make it harder to diagnose a B12 deficiency. Left untreated, B12 deficiency can cause nerve damage that is sometimes permanent. In the current study, people who supplemented were actually less likely to be B12-deficient than people who did not use supplements, probably because their supplements provided some vitamin B12 as well as folic acid.
Getting it right
"Even though enriched cereal-grain products, ready-to-eat cereals, and supplements all contribute to total folic acid intakes, most US adults are unlikely to be getting too much folic acid," said study co-author Dr. Robert Berry of the Centers for Disease Control and Prevention. "Only those whose supplements provide more than 400 mcg per day appear to be at risk of exceeding the upper level for daily folic acid intake."
Here are some ways to get the right amount of folic acid:
Eat healthy foods that provide folic acid, such as dark green lettuce, other greens, beans, lentils, and whole grains.
Take a multivitamin that provides 400 mcg or less of folic acid per day. Although the science is inconclusive, some studies have found that regular use of a multivitamin/mineral supplement can prevent heart disease and slow the aging process.
If you take supplements with more than 400 mcg of folic acid, make sure they also provide vitamin B12.
If you are using high-dose folic acid therapeutically, consider asking your doctor to check your B12 status through a blood test that measures the methylmalonic acid level, especially if you are over 60 years old. The elderly have an increased risk of B12 deficiency, even if dietary intake is adequate.
(Am J Clin Nutr 2010;91:64–72)
Maureen Williams, ND, received her bachelor's degree from the University of Pennsylvania and her Doctorate of Naturopathic Medicine from Bastyr University in Seattle, WA. She has a private practice on Cortes Island in British Columbia, Canada, and has done extensive work with traditional herbal medicine in Guatemala and Honduras. Dr. Williams is a regular contributor to Healthnotes Newswire.