HealthNotes
Dessert after Breakfast: A New Weight-Loss Strategy?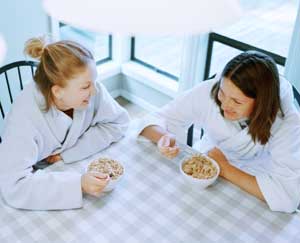 Adding a sweet treat to the morning meal may help some people lose weight and keep if off
Research presented at the 2012 meeting of the Endocrine Society introduces an entirely new concept in the
weight loss
wars: Dessert at breakfast time! At first glance, this may seem a little crazy, but the preliminary findings are interesting.
Breakfast is a piece of cake
Researchers selected 193 obese, sedentary, nondiabetic adult men and women to follow a diet that included a low-carbohydrate breakfast or a high-carbohydrate, high-protein breakfast. Study participants were an average of 47 years old, and both diets provided 1,400 calories per day for women and 1,600 calories per day for men—levels low enough to promote rapid weight loss. One unique feature of the high-carbohydrate, high-protein breakfast was "dessert": participants on this diet ate a sweet treat, such as a small piece of cake, with breakfast every day.
A body mass index of 25 to 30 is considered overweight, while over 30 signals obesity. The participants had an average body mass index of 32, placing them squarely in the obese category. At the start of the study, and 16 and 32 weeks later, the researchers measured body weight, craving and satisfaction scores, and blood levels of ghrelin, a hunger-stimulating hormone that rises to signal the brain that it is time to eat.
The researchers found the following:
At week 16, both diet groups had lost an average of around 31 pounds.
Between weeks 16 and 32, the low-carb group regained an average of 26 pounds; the high-carb group lost an average of 15 additional pounds.
Ghrelin levels were 45% lower after breakfast in the high-carb group, and 30% lower in the low-carb group.
Satisfaction (satiety) was significantly improved, and hunger and craving scores were significantly lower in the high-carb group compared with the low-carb group.
Finding your perfect morning meal
The authors point out that this was a short-term study, and that many people have trouble keeping weight off over a period of years rather than weeks. And research presented at conferences isn't considered solid until it's been peer-reviewed and published in a medical journal. Still, this study suggests that adding a sweet treat to the morning meal may help some people lose weight and keep if off.
Our tips can help you balance your morning meal to meet your weight-loss goals:
Promote protein. The high-carbo breakfast included plenty of protein. Protein keeps hunger at bay, which can limit unhealthy morning snacking. Try hardboiled eggs, Greek yogurt, or a high-protein, high-fiber cereal.
Stick to one "dessert." Connecticut's Griffin Hospital dietitian Samantha Heller points out, "When you look at what people are eating for breakfast, it's things like chocolate-covered honey-dipped cereals. Isn't this the same as dessert? So many people are eating dessert for breakfast already, which is helping to contribute to weight gain, not loss." Stick to one small serving of a sweeter food, paired with an ample serving of lean protein.
Add exercise. No weight-loss plan would be complete without regular physical activity. Take a minimum 20- to 30-minute walk daily to boost health and weight-loss efforts.
Don't go black and white. Some people tend toward "black and white" thinking, such as eating a "forbidden" food, feeling they've "blown it" on their diet, and giving in to a binge. If this describes you, starting out with a sweet treat may not be the best plan.
(Abstract MON-85; Endocrine Society Meeting: June 25, 2012)
Suzanne Dixon, MPH, MS, RD, an author, speaker, and internationally recognized expert in chronic disease prevention, epidemiology, and nutrition, has taught medical, nursing, public health, and alternative medicine coursework. She has delivered over 150 invited lectures to health professionals and consumers and is the creator of a nutrition website acclaimed by the New York Times and Time magazine. Suzanne received her training in epidemiology and nutrition at the University of Michigan, School of Public Health at Ann Arbor.