HealthNotes
Collagen in Skin Care Products: Hype or Hope?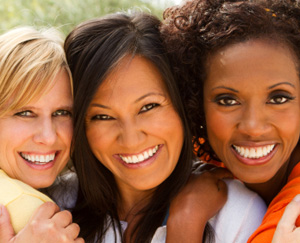 Collagen prevents your skin from drying out and wrinkles appear less pronounced on well-hydrated skin
Collagen
is the main structural protein in humans and animals, and provides support to skin, bones, cartilage, tendons, and teeth. Since younger skin naturally contains more collagen than older skin, it has become a popular ingredient in many anti-aging skin care products. Can these products give your skin a more youthful, smoother appearance? Surprisingly, the answer is yes—but not for the reasons you might think.
The lowdown on topical collagen
Many skin care products claim to help the body retain and make more collagen, thus smoothing and diminishing wrinkles. It turns out a few skin care ingredients may help in this regard. For example, topical vitamin C may dampen inflammation that hastens collagen's breakdown, and topical DHEA (dehydroepiandrosterone) may support collagen production (DHEA is a hormone, so ask your doctor before using it regularly on your skin, to make sure it's safe for you). The collagen molecule, however, is too large to penetrate through the skin's outer layer; it never reaches the areas where your own natural collagen resides. So why would collagen-containing creams and serums offer any benefit at all? It comes down to moisture.
Quick tips on collagen
Should you try skin care products with collagen? Collagen is fairly gentle and non-irritating, so most people tolerate topical collagen well. Some collagen comes from cows (bovine) or pigs (porcine); other products contain fish (marine) collagen. Some people claim marine collagen is less likely to cause allergic reactions, though this isn't proven.
To ensure you don't have an adverse reaction to topical collagen, do a 'patch' test when trying any new skin care product. Apply to a small area of the face or neck for a few days. If you develop any irritation or redness, try a different product after it clears up.
In addition to skin care products, several things can help keep your skin's collagen in good shape:
Don't smoke. Smoking is a notorious collagen killer. If you smoke, quitting is one of the best things you can do for your body, inside and out. Ask your healthcare provider for help when you're ready to commit to quit.
Eat right. The body needs plenty of vitamin C to create and maintain collagen. Eat vitamin C–rich foods every day. Try citrus, red and green bell peppers, kiwi fruit, broccoli, strawberries, low-sodium tomato juice, and cantaloupe.
Stay sun safe. Always use a broad-spectrum sunscreen, summer and winter, rain or shine, because ultraviolet radiation from the sun—even on a cloudy day—can break down skin collagen. One exception? For people who do not sunburn easily, some health experts recommend 10 to 15 minutes of sun exposure, three times per week, to ensure the body is making enough vitamin D; however even people with darker skin can develop skin cancer, so don't overdo it.
Suzanne Dixon, MPH, MS, RD, an author, speaker, and internationally recognized expert in chronic disease prevention, epidemiology, and nutrition, has taught medical, nursing, public health, and alternative medicine coursework. She has delivered over 150 invited lectures to health professionals and consumers and is the creator of a nutrition website acclaimed by the New York Times and Time magazine. Suzanne received her training in epidemiology and nutrition at the University of Michigan, School of Public Health at Ann Arbor.