HealthNotes
Cocoa Linked to Lower Blood Pressure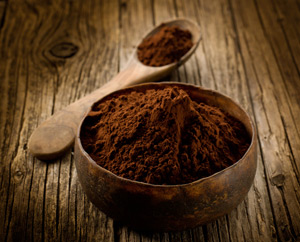 Cocoa may also improve insulin sensitivity and act as an antioxidant
If you needed another reason to enjoy
chocolate
, research finds that cocoa products may complement other
blood pressure–lowering strategies
. A study in
Cochrane Database of Systematic Reviews
suggests that eating flavanol-rich cocoa may help lower blood pressure.
Flavanol-rich cocoa linked to small benefit
In this meta-analysis study, researchers reviewed studies exploring the effects of flavanol-rich cocoa products on blood pressure. Their review included the data from 20 randomized controlled studies, which included 856 healthy adult participants. In these studies, participants consumed between 30 mg and1,080 mg (average 546 mg) of flavanols daily, in 3.6 grams to 105 grams of cocoa products. Interventions lasted 2 to 18 weeks (average 4.4 weeks). Control groups received either a flavanol-free product or a low-flavanol cocoa powder. Blood pressure was monitored.
Results showed a small but statistically significant 2 to 3 mmHg reduction in blood pressure in the flavanol-rich chocolate groups compared with control groups. This effect was seen in trials that lasted less than two weeks but not in trials lasting more than two weeks, and the intervention appeared more effective for people 18 to 45 years old compared with older people.
"The reduction in blood pressure of about 2–3 mmHg might complement other treatment options and might contribute to reducing the risk of cardiovascular disease," said lead study author Karen Reid from the National Institute of Integrative Medicine, Melbourne, Australia. "However, we were unable to identify any randomized, controlled trials that tested the effect of long-term daily ingestion of cocoa products on blood pressure, and there were no trials that measured an effect on clinical outcomes related to high blood pressure such as heart attacks or strokes."
While this analysis looked at the short-term results of eating cocoa products, research trials are needed to study the long-term effects and safety of cocoa products and whether blood pressure is reduced by eating cocoa daily.
Health benefits of cocoa
Cocoa plant chemicals provide benefit. Cocoa comes from the seeds of the cacao plant and is the main ingredient of many chocolate products. Cocoa contains plant chemicals known as flavanols, which have been linked to blood pressure lowering and may do this by dilating blood vessels. The study authors point out that cocoa flavanols may also block the activity of an enzyme in our body that constricts blood vessels known as angiotensin converting enzyme (ACE), and by blocking this enzyme, reduce blood pressure. Cocoa may also improve insulin sensitivity and act as an antioxidant; effects that may provide additional protection against strokes and heart attacks.
Too much sugar isn't good for you. Before you run out and stock up on chocolate, it's important to realize that cocoa products used in research studies are typically developed to keep the highest amount of healthy plant chemicals and the least amount of sugar and fat. In fact, in this analysis, cocoa products with the least amount of sugar had the most beneficial effect on blood pressure. Further research is needed to understand what types and amounts of cocoa are the best to eat for the greatest health benefits.
Talk with a doctor. If you have high blood pressure, it is important to see a doctor regularly for monitoring and treatment and to discuss the benefits of dietary options to keep you healthy.
(
Cochrane Database Syst Rev
2012;8:DOI: 10.1002/14651858.CD008893.pub2)
Jane Hart, MD, board-certified in internal medicine, serves in a variety of professional roles including consultant, journalist, and educator. Dr. Hart, a Clinical Instructor at Case Medical School in Cleveland, Ohio, writes extensively about health and wellness and a variety of other topics for nationally recognized organizations, websites, and print publications. Sought out for her expertise in the areas of integrative and preventive medicine, she is frequently quoted by national and local media. Dr. Hart is a professional lecturer for healthcare professionals, consumers, and youth and is a regular corporate speaker.