HealthNotes
Case Studies Hint that Indian Spice May Benefit Alzheimer's Symptoms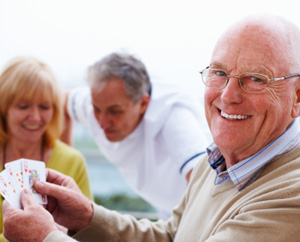 A report on turmeric supplements offers a promising direction for future research
Alzheimer's disease
exacts a heavy toll, and as the world's population ages, more and more people are likely to be affected by this form of dementia. Unfortunately, there are no proven medical treatments for improving outcomes for people with this disease, which is why a report out of India that describes three Alzheimer's patients who experienced thinking (cognitive function) and behavior improvements after taking
turmeric supplements
offers a promising direction for future research and some hope to those coping with the disease.
Intriguing cases, spicy hopes
Case 1
An 83-year old woman developed signs of dementia, including difficulty with dressing, cooking, and household tasks, when she was 76 years old. She wandered around the house, experienced urinary incontinence, and showed apathy, anxiety, agitation, and irritability. After taking 764 mg turmeric daily (containing 100 mg per day of curcumin, an active ingredient in turmeric) for 12 weeks, her symptom scores improved and she expressed less agitation, apathy, anxiety, and irritability. She began to engage in activities she previously enjoyed, such as knitting and singing and regained some control of her bladder. After one year of turmeric supplementation she began to recognize her family.
Case 2
An 84-year old woman began to experience forgetfulness, disorientation, hallucinations, delusions, agitation, irritability, depression, apathy, wandering, urinary incontinence, and distorted memories several years prior to coming for treatment. After taking 764 mg of turmeric daily for 12 weeks, her hallucinations, delusions, agitation, apathy, anxiety, irritability, and incontinence improved. She began to dress appropriately and gained the ability to distinguish her family from care center staff. After one year of turmeric supplementation, her family noted that she continued to live peacefully with them.
Case 3
A 79-year old man began to experience short-term memory loss, progressing to confusion, poor concentration and recall, agitation, apathy, anxiety, euphoria, irritability, changes in eating behavior, depression, and decreases in writing and verbal fluency over several years. After taking 764 mg of turmeric daily for 12 weeks, he experienced improvements in levels of agitation, irritability, and depression, and increases in concentration and spontaneous writing. His score on the Mini-Mental State Examination, a test used to gauge a person's mental health and cognitive status, improved, and after one year, he continued to live with his wife, who noted the improvements continued.
Putting case studies into perspective
Keep the following points in mind as you decide whether a turmeric supplement is a good choice for you or your loved ones:
Consult your doctor. If behavior changes are new, arrange for a neurologic examination by a dementia specialist. Nutrient deficiencies, cardiovascular disease, unmanaged diabetes, mini-strokes (transient ischemic attacks, or TIAs), and other potentially treatable conditions should be ruled out.
Check for interactions. Turmeric can cause problems with existing medications. Before starting turmeric, talk to a healthcare provider who has full access to your or your loved one's medical records.
Halt with heartburn. Turmeric may worsen heartburn and gallbladder disease. Remember that a loved one with dementia may not be able to tell you if a supplement isn't well tolerated, or if other symptoms worsen.
Consider the evidence. Case studies are the weakest type of evidence, and many don't consider it research at all. Some placebo-controlled, blinded trials have not shown turmeric or curcumin to improve dementia symptoms, so continue to look for emerging research on this and other possible treatments.
Note the dose. It is possible the clinical trials did not use the right dose or formulation. If you want to try turmeric, consult a knowledgeable healthcare provider about how much, and what formulation—such as a supplement with piperine, a black pepper-derived substance that improves absorption—is most likely safe, and potentially beneficial.
(Ayu 2012; 33:499–504)
Suzanne Dixon, MPH, MS, RD, an author, speaker, and internationally recognized expert in chronic disease prevention, epidemiology, and nutrition, has taught medical, nursing, public health, and alternative medicine coursework. She has delivered over 150 invited lectures to health professionals and consumers and is the creator of a nutrition website acclaimed by the New York Times and Time magazine. Suzanne received her training in epidemiology and nutrition at the University of Michigan, School of Public Health at Ann Arbor.