HealthNotes
For People with Arterial Disease, Carnitine May Boost Walking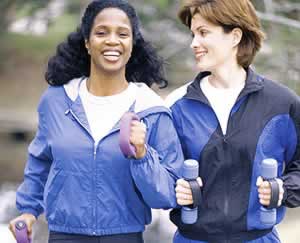 Supervised exercise should remain the current gold standard for people with claudication
People with blocked arteries in their legs (peripheral artery disease) can experience weakness and painful cramping sensations (claudication) when they walk, which limits their distance. A study in
Atherosclerosis
found that walking distance improved in people with
intermittent claudication
who took a
carnitine supplement
, similar to effects seen in other therapies.
Carnitine linked to improved walking distance
In this study, researchers reviewed 18 studies exploring the link between carnitine use and walking distance in people with intermittent claudication.
Results showed that, compared with placebo, people in the carnitine groups gained a mild to modest distance in pain-free walking. For example, in seven of eight randomized controlled trials, people who took between 600 mg and 3,000 mg of a commonly used form of carnitine (propionyl-L-carnitine) for up to 12 months gained between 102 and 177 feet greater than placebo for pain-free walking distance and between 30 and 282 feet greater than placebo for maximal walking distance.
The review authors point out that study participants achieved similar results to other therapies prescribed for claudication, such as medications and exercise therapy. They comment that supervised exercise should remain the current gold standard for people with claudication but add that "carnitine supplementation may have a role to play as an adjunctive therapy, or in patients for whom supervised exercise is challenging."
The authors caution that there is not enough research evidence yet to recommend carnitine as a routine therapy for claudication. Further research is needed to determine the optimal dose and long-term safety of carnitine supplementation for peripheral artery disease.
Facts about peripheral artery disease
What causes it? Hardening and clogging of the arteries from the build-up of fat or cholesterol (known as atherosclerosis) is the main cause of peripheral artery disease. People with peripheral artery disease have arteries that are not as flexible or functional and also have less blood flow in the affected arteries. This leads to uncomfortable symptoms such as cramping, weakness, and fatigue in the affected limbs. These symptoms often occur or worsen with walking or exercise and can limit a person's physical activities.
Who is at risk? Atherosclerosis, diabetes, and smoking are the most common risk factors for developing peripheral artery disease. It is also more common in people who are over the age of 70.
What makes it better? Medications, supervised exercise programs, surgery, complementary therapies, and quitting smoking have all been shown to help improve peripheral artery disease.
Talk with a doctor. For optimal health, see a doctor regularly for preventive measures and appropriate recommendations for your health. Before taking supplements, talk with a knowledgeable doctor about the risks and benefits.
(Atherosclerosis 2013 http://dx.doi.org/10.1016/j.atherosclerosis.2013.03.004)
Jane Hart, MD, board-certified in internal medicine, serves in a variety of professional roles including consultant, journalist, and educator. Dr. Hart, a Clinical Instructor at Case Medical School in Cleveland, Ohio, writes extensively about health and wellness and a variety of other topics for nationally recognized organizations, websites, and print publications. Sought out for her expertise in the areas of integrative and preventive medicine, she is frequently quoted by national and local media. Dr. Hart is a professional lecturer for healthcare professionals, consumers, and youth and is a regular corporate speaker.