HealthNotes
Breathe Easy During Your Workout with Vitamin C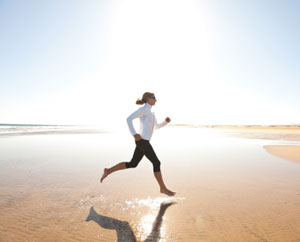 When it's done right, exercise can actually help you manage asthma better
People with exercise-induced asthma might find some relief by taking vitamin C, reports a study in the British Medical Journal.
Exercise-induced asthma (also called exercise-induced bronchospasm) is characterized by shortness of breath, fatigue, coughing, wheezing, or chest pain or tightness during exercise. It's more common in people who also have other types of asthma and in those with poorly controlled asthma. Certain irritants (like cigarette smoke, pollen, and chlorine) can make exercise-induced asthma worse, as can engaging in high-intensity cold weather sports, like ice hockey and cross country skiing.
Catch your breath
Lung function can be assessed using something called forced expiratory volume—or FEV1—which measures the amount of air that can be forcibly exhaled in one second. A drop in FEV1 by ten or more percentage points during exercise is indicative of exercise-induced asthma.
While the processes leading to exercise-induced asthma aren't completely understood, inflammatory mediators released into circulation during exercise might be involved. Vitamin C deficiency can lead to increased levels of these mediators.
Vitamin C helps lung function
The study combined the results of three clinical trials investigating the use of vitamin C on signs of exercise-induced asthma. A total of 40 participants receiving between 500 mg and 2 grams of vitamin C per day were included in the analysis. FEV1 was measured pre- and post-exercise. Compared with placebo, vitamin C reduced the drop in post-exercise FEV1 values by an average of 50%, indicating a substantial improvement in lung function from vitamin C.
"Given the low cost and safety of vitamin C and the consistency of positive findings in the three studies on exercise-induced bronchospasm, it seems reasonable for physically fit and active people to test vitamin C on an individual basis if they have respiratory symptoms such as cough associated with exercise," said lead study author, Dr. Harri Hemilä. Conventional treatment for exercise-induced asthma may involve a combination of short- and long-acting medications to help relax the airways and make breathing easier. These drugs are usually very effective, but they also carry some risks. Common side effects of short-acting asthma medications like beta-agonists (albuterol) include fast heart rate, nervousness, and worsening asthma. Long-term control medications may combine different drugs like inhaled corticosteroids and long-acting beta-agonists (Symbicort®). Side effects of these medications may include worsening asthma, high blood pressure, and increased susceptibility to infections.
Tips for exercising with asthma
Just because you have asthma doesn't mean you shouldn't exercise at all. In fact, when it's done right, exercise can actually help you manage asthma better. To ward off asthma during exercise, try these ideas:
Warm up for about ten minutes before getting into your full workout.
Breathe through your nose to warm and moisten the air before it reaches the lungs.
Limit high-intensity cold-weather exercise. Consider wearing a ski mask that covers the mouth and nose for this type of activity.
Asthma can be a serious condition. If your doctor feels that your symptoms warrant medication, take them as directed.
(BMJ Open 2013;doi:10.1136/bmjopen-2012-002416)
Kimberly Beauchamp, ND, received her doctoral degree from Bastyr University, the nation's premier academic institution for science-based natural medicine. She co-founded South County Naturopaths in Wakefield, RI, where she practiced whole family care with an emphasis on nutritional counseling, herbal medicine, detoxification, and food allergy identification and treatment. Her blog, Eat Happy, helps take the drama out of healthy eating with real food recipes and nutrition news that you can use. Dr. Beauchamp is a regular contributor to Healthnotes Newswire.