HealthNotes
B12 Relieves Reflux in Babies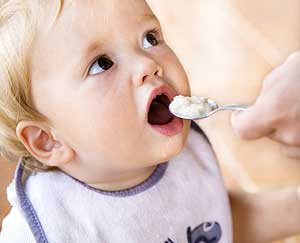 Regurgitation symptoms improved in 69% of babies who received vitamin B12
Infants with
reflux
who have low
vitamin B12
 levels may benefit from supplementation, according to a study in the
American Journal of Clinical Nutrition.
Babies need their Bs
Babies with B12 deficiency may have feeding difficulties, developmental delays, and progressively worsening neurological symptoms. Not all babies develop in precisely the same way, and the course of their development isn't constant (that is, they tend to develop in spurts). Because of this, symptoms due to low B12 levels may be confused with or masked by normal developmental variations.
Researchers from Haukeland University Hospital in Bergen, Norway, tested the B12 status of infants less than eight months old who had feeding problems, developmental delays, or minor neurological symptoms. About 80% of the babies had laboratory abnormalities that suggested low vitamin B12 status and were enrolled in a study that tested their response to supplementation.
Seventy-nine babies were given 400 mcg of vitamin B12 or placebo as a one-time injection. At the beginning of the study and again one month later, parents reported on neurological symptoms (like twitches and tremors), incidence and frequency of regurgitation, and food refusal. Doctors assessed the infants' motor development.
Here's what the study showed:
B12 status improved significantly in the B12-supplemented group, but not in the placebo group.
Gross motor function improved in both groups over the course of the study, but only the B12 group had significant improvements.
Food refusal didn't change appreciably in either group.
Regurgitation symptoms improved in 69% of babies who received vitamin B12, compared with 29% in the placebo group.
"Long-term effects of a temporary moderate deficiency are unknown, but vitamin B12 deficiency should be considered in young, mainly breastfed infants with feeding difficulties, subtle neurologic symptoms, and delayed motor development," said lead study author, Anne-Lise Bjørke-Monsen.
B smart
Vitamin B12 is vital for normal neurological development and function. Severe B12 deficiency causes anemia and various neurological disorders, including numbness or tingling in the hands and feet, poor balance, and depression. Babies who don't get enough vitamin B12 are at risk for permanent neurological damage.
Infants' B12 levels are closely tied to those of the mother, which emphasizes the importance of getting enough of this nutrient during pregnancy and while nursing. Vitamin B12 is found almost exclusively in foods of animal origin. Sardines, salmon, tuna, cod, scallops, lamb, beef, and shrimp are all excellent sources. Vegetarians and vegans are at risk for B12 deficiency and should consider supplementing with it, especially when pregnant or nursing.
(Am J Clin Nutr 2013;98:1233–40)
Kimberly Beauchamp, ND, received her doctoral degree from Bastyr University, the nation's premier academic institution for science-based natural medicine. She co-founded South County Naturopaths in Wakefield, RI, where she practiced whole family care with an emphasis on nutritional counseling, herbal medicine, detoxification, and food allergy identification and treatment. Her blog, Eat Happy, helps take the drama out of healthy eating with real food recipes and nutrition news that you can use. Dr. Beauchamp is a regular contributor to Healthnotes Newswire.