HealthNotes
Anti-Inflammatory All-Stars Support Artery Health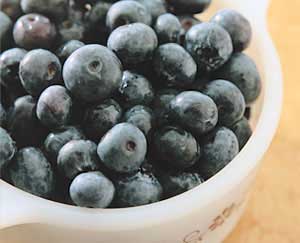 Substances in the blood that that are associated with higher heart disease risk were significantly lower in the anthocyanin group
Inflammation
is one cause of hardening of the arteries—a form of heart disease known as
atherosclerosis
. Because more inflammation leads to more atherosclerosis, health experts recommend common sense measures, such as regular physical activity, avoiding tobacco, and enjoying a healthy, whole-foods diet, which all decrease inflammation. Now we may be able to add anthocyanins—nutrients found in foods such as berries, beans, and grape juice—to the list of supplements that may help as well.
Fighting inflammation to hinder heart disease
Studying people with high cholesterol can shed light on how anthocyanins may work in people with higher-than-average heart disease risk. To study their effects on inflammation, researchers randomly selected 150 adults with high cholesterol to take 350 mg of anthocyanins or a placebo twice per day for 24 weeks. Neither the researchers nor the study participants knew who was assigned to the anthocyanin group.
Participants were asked to avoid consuming foods and drinks high in anthocyanins for the duration of the study (high-anthocyanin food list was provided), but otherwise maintain their usual diet and lifestyle habits. Blood samples were collected at the start of the study and at 12 and 24 weeks.
Compared with the placebo group, substances in the blood that signal inflammation and that are associated with higher heart disease risk were significantly lower in the anthocyanin group:
LDL ("bad") cholesterol levels were reduced by an average of 10%
High-sensitivity C-reactive protein decreased an average of 22%
Plasma interleukin-1beta decreased an average of 13%
Soluble vascular cell adhesions molecule levels decreased an average of 12%
Additionally, HDL, ("good" cholesterol) increased by an average of 14% in the anthocyanin group.
Anti-inflammatory know-how
The study showed that anthocyanin supplements improve markers of heart disease risk, but it did not consider how anthocyanins affect heart disease itself—the researchers didn't follow participants long enough to see how the supplement might affect risk of heart attack, for example. Still, the results suggest that anthocyanins may enhance cardiovascular health, particularly in people with high cholesterol. Our tips can help you develop a heart healthy plan, with or without anthocyanin supplements.
Ask the doctor. Anthocyanin supplements are generally considered safe; however, they can interact with some medications, so check with your doctor or pharmacist.
Check your pressure. If you take medication for high blood pressure, you may need less of it when taking anthocyanins. Ask your doctor if an anthocyanin supplement is right for you, and how taking one might affect your blood pressure–management plan.
Eat it up. Adding more anthocyanin-rich (often red and purple) foods and drinks may improve heart health. Enjoy dark red and purple berries, such as blueberries, blackberries, cranberries, strawberries, raspberries, and dark red cherries; grape and berry juices; black, red, and kidney beans; and purple onions and cabbage.
Cover the basics. Start with tried-and-true heart health measures, including regular physical activity, avoiding tobacco, and keeping tabs on your blood pressure and cholesterol over time.
(In press: Nutr Metab Cardio Dis 2012, doi: dx.doi.org/10.1016/ j.numecd.2012.06.005)
Suzanne Dixon, MPH, MS, RD, an author, speaker, and internationally recognized expert in chronic disease prevention, epidemiology, and nutrition, has taught medical, nursing, public health, and alternative medicine coursework. She has delivered over 150 invited lectures to health professionals and consumers and is the creator of a nutrition website acclaimed by the New York Times and Time magazine. Suzanne received her training in epidemiology and nutrition at the University of Michigan, School of Public Health at Ann Arbor.