HealthNotes
Another Reason to Eat Fish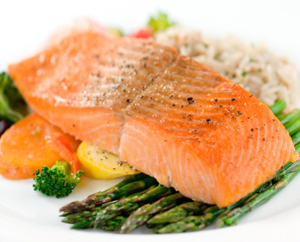 Men who eat an abundance of fish may have a lower risk of developing advanced prostate cancer
A man's diet may affect his prostate cancer risk, and a new study in the American Journal of Clinical Nutrition finds that fish may offer protection to men with prostate cancer. Men who eat an abundance of fish may have a lower risk of developing advanced prostate cancer or dying from prostate cancer compared with men who eat very little or no fish.
Adding fish slows disease progression
The incidence of prostate cancer varies throughout the world, and prior research suggests that diet may affect the incidence of cancer and the number of deaths caused by prostate cancer. For instance, populations who eat a lot of fish such as people in Japan and Alaskan Eskimos have a lower incidence of prostate cancer than people who eat typical Western diets. In this review, researchers examined data from a total of 31 observational studies and looked at the association between the amount of fish men ate and incidence of death from prostate cancer. Because of the many studies included in this meta-analysis, the men ate a wide variety of fish, including fatty fish, lean fish, and even fried fish. Results showed:
Men who ate more fish had a 44% lower risk of having advanced or metastatic prostate cancer compared with men who ate less.
In addition, men who ate more fish also had a 63% lower risk of dying from prostate cancer compared with men who ate less.
In this particular analysis, eating more fish was not associated with a significantly lower incidence of prostate cancer, but it did lower incidence of advanced prostate cancer. The authors comment, "In our study, fish consumption was not associated with a lower incidence of all prostate cancer, but it may be related to decreased aggressive, clinically relevant disease. Fish consumption may decrease cancer-specific mortality by preventing metastatic disease."
While the authors don't state how much fish a man should eat for the protective benefits, one epidemiological study referenced in the article found that men who ate fish more than three times per week had a lower risk of prostate cancer and especially metastatic cancer than men who ate less.
Fish-ful thinking
Get important nutrients. Fatty fish such as salmon, mackerel, and herring are high in omega-3 fatty acids and vitamin D and other vitamins, minerals, and protein.
Protect against cancer. Omega-3 fatty acids found in fish and fish oil have been shown to inhibit the growth of prostate cancer cells in laboratory studies. Inflammation is thought to play a significant role in cancer development and studies have demonstrated that fatty acids have anti-inflammatory effects as well. As we see from the results of the above study and others, further research is needed to understand the role of dietary fish in cancer prevention.
Make it part of a balanced diet. Eating fish is recommended by a number of health organizations to help prevent a variety of medical conditions. For instance, The American Heart Association recommends eating fish at least twice a week for heart health. But more isn't necessarily better in this case.
Talk with your doctor. Talk with a knowledgeable doctor or nutritionist about a balanced diet that is right for you based on your current and past medical history.
(Am J Clin Nutr doi: 10.3945/ajcn.2010.29530)
Jane Hart, MD, board-certified in internal medicine, serves in a variety of professional roles including consultant, journalist, and educator. Dr. Hart, a Clinical Instructor at Case Medical School in Cleveland, Ohio, writes extensively about health and wellness and a variety of other topics for nationally recognized organizations, websites, and print publications. Sought out for her expertise in the areas of integrative and preventive medicine, she is frequently quoted by national and local media. Dr. Hart is a professional lecturer for healthcare professionals, consumers, and youth and is a regular corporate speaker.